On Land, Rails and Rivers
We want to offer you exquisite, timeless adventures through some of the most intoxicating destinations on Earth. These aren't locations. They're legends.
Central Asia's Silk Road. The Trans-Siberian Railroad. The Namib Desert or ancient Persia. Iconic, classic, almost mythical. This is living history, experienced in comfort, aboard our splendid private trains and river cruise ships. Classic train routes, exotic waters. The world's wonders, enjoyed with ease.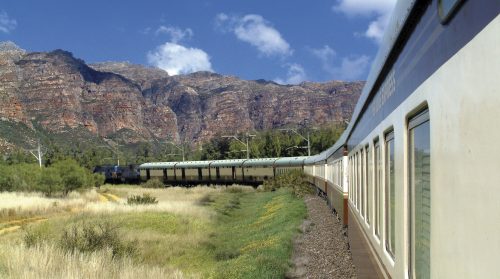 One train journey – and four African countries! Discover the incomparable diversity of sights in South Africa, Swaziland, Mozambique, and Zimbabwe. Look forward to such highlights as the legendary Kruger National Park and the Victoria Falls on the mighty Zambezi River as well as a host of sights off the standard tourist trail, including Maputo, the Matobo National Park and the Great Zimbabwe ruined city.
Discover the Southern Africa aboard the African Explorer, a 13 Day Railway Journey from Victoria Falls to Pretoria.
The African Explorer, as a rolling hotel, offers sleeping compartments in two categories, two air-conditioned restaurant cars, a bar car and a lounge car with panorama windows and an open platform at the end. The tempting three-course dinners are served in one sitting. The bar car, open around the clock is ideal for relaxing over a beer or a glass of South African wine and is a popular spot for reading as well as the venue for the fascinating on board talks.
Destinations in Unique Journeys
No items found