Galapagos Islands
I recently visited one of my bucket list locations, the Galapagos Islands at the ripe age of 41. Sailing around the volcanic and enchanting islands in Ecuador, seeing some of the most enigmatic and extraordinary creatures. It has always been on my list but I thought I'd do it when I'm older. In hindsight, I realize now you shouldn't wait. Despite the fact that the Galapagos Islands is more expensive to travel to than the rest of South America, if you have the funds to do so, schedule the time and plan your trip.
Here are my reasons why
1. Snorkeling
Every day! Love love love! Snorkeling in the Galapagos is one of the most unique experiences in the world. A visit to Galapagos is a once in a lifetime experience to see firsthand an unique array of endemic species located on a select group of islands, and they are just as amazing in the water. I (me!) swam with a sea lion who was just so playful I eventually started flapping around somewhat less gracefully than the sea lion, coasted with sea turtles as they swam along and watched a penguin fishing for his lunch (couldn't keep up with him though!). You can't touch the animals in the Galapagos but someone forgot to tell the sea lions who thoroughly enjoy playing with you!
2. Darwin
Darwin's theory of evolution that stemmed from his 1835 visit is reinforced when you visit these islands and how important these group of islands is to our understanding of evolution, biology and the impact of man on earth. There are endemic species here found nowhere else in the world and not like this. Left to their own devices the marine iguanas, sea lions, giant turtles and bird life acknowledge you only with a mild interest, if at all. Divert your attention momentarily (like fiddling with your camera settings whilst still walking!) and you will accidentally step on a marine iguana. There were moments I felt we were intruding on a place not meant for man. The experience is educational, reinforcing and uplifting knowing this is a special part of the world like no other place. As an environmentally conscious traveler, it is also a reflecting experience when you realize what we have done to the rest of the world and the creatures we share it with.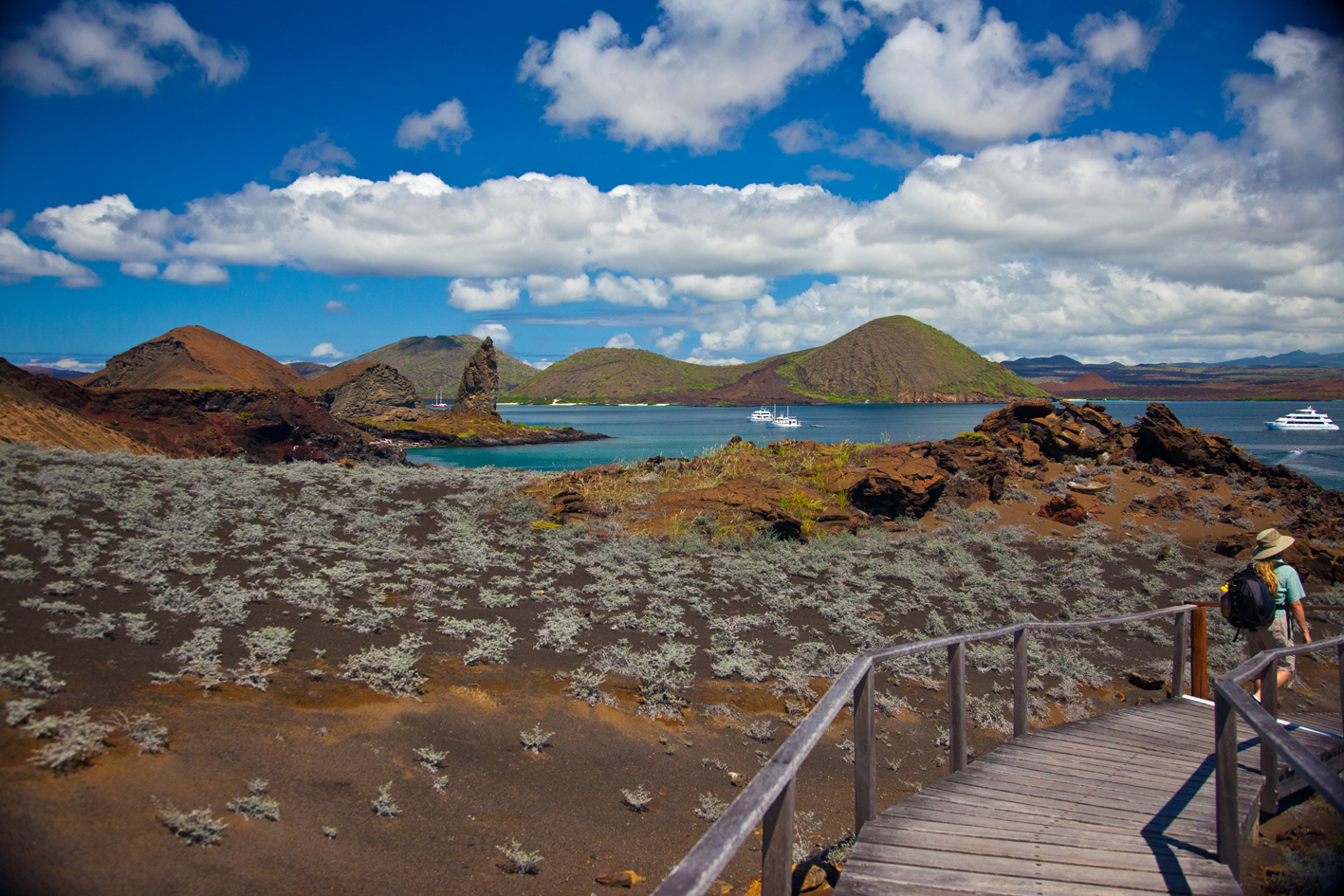 3. Close Encounters
Fancy getting up close to the only marine lizard in the world? Stand beside a wise old giant turtle? See a dancing blue footed boobie? Swim with a playful and cheeky sea lion? Watch a stunning Galapagos sunset from your boat? View a million stars on a clear night with the sound of the water lapping the boat. This is the Galapagos experience and it is all right there in front on you. You aren't allowed to touch the animals anymore but it's not hard to imagine how easily Darwin knocked a hawk off a branch or picked up a marine iguana to investigate (or eat).
4. Your age and attitude
Are you too old to go to the Galapagos Islands? Absolutely not! I journeyed around the islands on an 8 day boat in one of the better equipped and pricier boats but it was worth it to have the comfort to relax as there are excursions in the morning and afternoon. Snorkeling is almost always on the agenda daily. The 20 person boat was more than comfortable on board, with international chefs and thus amazing food, a bar and bartender who made the best mojitos, sundeck, kayaks, wet-suits and snorkel gear. Sounds luxurious but don't be confused with a cruise. I would consider it an entry level adventure holiday. The ages on board ranged from 26 to 78 years old so it's not an adventure limited by age and the best age to visit the Galápagos is any. However, to really enjoy and participate fully in the excursions, the fitter you are the better and the bigger your "can do" attitude to do everything will see you engaged and smiling.
5. Sustainability
Right now, the reptile and marine inhabitants of the Galapagos Islands still treat us as a mild curiosity. The National Park is restricted and there are strict guidelines as to which boats visit each island, which route the boats take, the size and how many boats a tour company can have in service. Despite that, there has been an increase in tourists to the islands in the last 20 years and it is a matter of time before our regular visitations do start having a greater effect on these islands and the animals that live on them. The Government won't stop tourism to the Galapagos, it's a primary reason people travel to Ecuador but there will continue to be restrictions and I have no doubt they will get stricter to preserve the ecosystem. If you want to experience the unique balance that exists only on these islands, get out the South America map and travel planner before its too late, trust me you won't regret it.
As always, safe and happy traveling to all our readers – Nicola