Duration:
5 days - 4 nights
p.p. twin share. Excludes Airfares
The Lake District of Argentina and Chile has been a major tourism hot spot for many years. It showcases an array of amazing natural volcanoes, glaciers, snow-capped mountains, rivers and wildlife. The large lakes, beautiful parks and woodlands spread along the Andes ranges, and because of its elevation the mountain chain protects a series of ecosystems from native woodlands to volcanic mountains. This is by far one of the most intriguing and picturesque regions of South America. Due to the beauty of this particular journey this international route is extremely popular and highly recommended. Bariloche can be the base of your Patagonian adventure, where you can find activities galore and of course plenty of shops selling the finest handmade chocolates!
The below tour is fully flexible with departure dates and can be modified to your own personal travel preferences, please contact us for an obligation free enquiry.
Overview
Overview
| | |
| --- | --- |
| Day 1 | Arrive in Puerto Montt, and short city tour in Puerto Montt. Transfer to Puerto Varas |
| Day 2 | Navigation from Puerto Varas to Peulla & Petrohue Falls sightseeing |
| Day 3 | Journey from Peulla to Bariloche |
| Day 4 | Bariloche sightseeing |
| Day 5 | Departure from Bariloche |
Itinerary
Itinerary
Day 1: Puerto Varas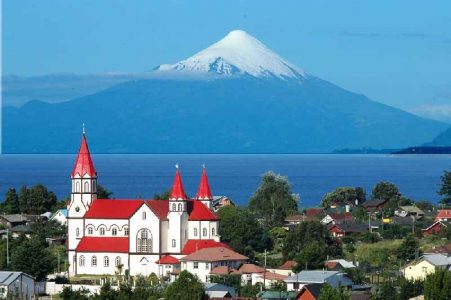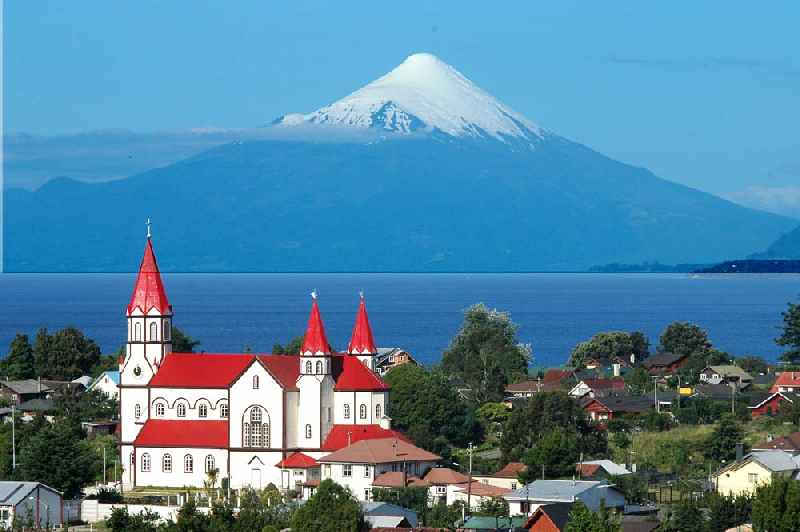 Arrival at Puerto Montt Airport, directly followed by a short city tour of Puerto Montt; a transfer will then take us to Puerto Varas, also known as the "City of Roses", located on the shores of Lake Llanquihue, Chile's second largest lake, with the volcanoes Osorno and Calbuco reflected on the crystal clear waters. Overnight in Puerto Varas.
Day 2: Puerto Varas – Puella
In the morning we will drive along the shoreline of Lake Llanquihue to Petrohué in the Vicente Pérez Rosales National Park. A short stop at the famous Petrohué Falls is optional. Once in Petrohué, we will board the catamaran to navigate across Lake Todos los Santos to Peulla, enjoying beautiful views of the surrounding mountains on the way. We will have time for optional tours at the Hotel Peulla and/or a walk to the nearby waterfalls. Overnight in Peulla.
Day 3: Peulla – Bariloche
Departure by bus to Puerto Frías. We will cross the Andes Mountain range and into Argentina at approx. 1000mt. / 3200ft. above sea level and continue down the winding road that leads to Puerto Frías, from where we will then cross Lake Frías to Puerto Alegre. A short drive will take us to Puerto Blest, where our next catamaran awaits us on Lake Nahuel Huapi. Departing Puerto Blest we will continue to Puerto Pañuelo. Upon arrival, we will board the bus that will take us on the to Bariloche, Argentina; a city that beckons tourist all-year round with its wide variety of ski resorts, shops, hotels, restaurants and a thriving nightlife.Overnight in Bariloche
Day 4: Bariloche sightseeing
The tour begins downtown, more precisely on Ezequiel Bustillo Avenue, a winding path that runs along the lake Nahuel Huapi. In the first section, in addition to urban architecture, the tour passes by the houses of pioneers, by the Yacht Club and the Melipal neighborhood. As one moves away from the buildings, the landscape begins to change to appreciate the flora and cypress forests, maitenes, coihues and ñires, among other typical trees. In summer, this road takes on a vibrant red and yellow color from rose hip bushes, plants of blackberries, raspberries and broom blooming in abundance. At kilometer 17 is the base of Cerro Campanario, which has a height of 1,050 meters and, through a chairlift, you can access its summit. At the 24th kilometer, we begin to make out the San Eduardo Chapel, Pañuelo Port and Llao Llao Hotel. Remodeled and fully operational, the classical hotel is one of the most famous postcards of Bariloche, with panoramic views of the national park and lakes Nahuel Huapi and Perito Moreno. Passing through Lake Escondido, leads to the binding of lakes Nahuel Huapi and Perito Moreno, which crosses the Narrows Bridge, located on the river of the same name. The circuit also shows the cemetery Highlander, the village of the Swiss settlers and finally the panoramic lookout point or Lake Moreno, at kilometer 40. The way back begins at the El Trebol lagoon to the junction with Av Bustillo, which leads back to the city center. In just 60 kilometers you can admire lakes, mountains and native forests of singular beauty.
Day 5: Departure Bariloche
Today you will be transferred to the airport.
Inclusions
Inclusions
Arrival transfer Puerto Montt
Short city tour in Puerto Montt
transfer to Puerto Varas
1 night in Puerto Varas
Navigation journey from Puerto Varas to Peulla
1 night Peulla
Transfer Peulla to Bariloche
2 nights in Bariloche
City tour circuit in Bariloche
Transfers Bariloche to airport
Not included
Items of personal nature
Drinks alcoholic and not alcoholic
Meals not listed above
Tours not listed above
Transfers not listed above
Flights
Tips to the drivers, guides & porters
Airfares
Travel Just 4U has competitive South America Flights to get you to the starting point of your chosen Holiday. Contact one of our Travel Consultants for a full quotation including airfares, stopovers and any additional travel you wish to organize.
Other Argentina, Chile Experiences