Duration:
12 days - 11 nights
p.p. Twin Room Share, Excludes Flights
Cuba is a combination of singular emotions: light and colour, joyfulness and warmth. Whether exploring its city streets or soaking up the beauty of its beaches, you'll have memories to treasure. Here, you'll have much more than a Caribbean vacation. Cuba is the sound of a guitar, the sound of drums. It is white, black, urban, country and sea. It is beaches with turquoise-blue water; cities infused with the air of a long gone era; rich, multicoloured, vital nature.
Overview
Overview
| | |
| --- | --- |
| Day 1 | Arrive into Havana, leisure time |
| Day 2 | Flight Havana to Santiago de Cuba |
| Day 3 | City tour Santiago |
| Day 4 | Santiago de Cuba – Cayo Saetía – Holguín |
| Day 5 | Holguín – Playa Santa Lucía |
| Day 6 | Day at lesure at Playa Santa Lucía |
| Day 7 | Playa Santa Lucía – Camagüey – Sancti Spíritus – Trinidad |
| Day 8 | Trinidad – Cienfuegos |
| Day 9 | Cienfuegos – Santa Clara – Guamá – La Habana |
| Day 10 | City Tour Habana Colonial |
| Day 11 | Day at leisure |
| Day 12 | Departure Havana |
Itinerary
Itinerary
Day 1 – Arrival into Havana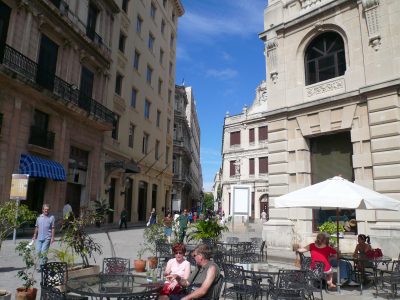 Upon arrival into Havana you will be met by a driver to take you to your hotel to relax for the remain of the day.
Day 2 – Flight Havana to Santiago de Cuba
Today you will fly to the city of Santiago for a few days exploring the Eastern side of Cuba. For the evening we will make a table reservation to the private restaurant (Paladar) Terraza.
Located just a few blocks away from the Parque Cespedes in a typical Cuban home, their beautiful terrace offers great views over Santiago.
So called "Paladares" (private restaurants) are still restricted by the government, resulting in opening barriers and limited numbers of seats. Nevertheless, due to these limitations, some of them have gained prominent cult status for their creative cuisine, their service and the ambiance. Cuban or resident travel agencies are not allowed to arrange contracts or direct/advanced payments with private restaurants, therefore the check must be paid by the customer on the spot.
After dinner you will visit Casa de la Trova (state-sponsored music salon) to enjoy Cuban music. It's considered an honor to play at Santiago's Casa de la Trova, and the quality of the musicianship is high. The audience is a mixture of local people and tourists. The atmosphere is informal. It's not uncommon for people to get up and dance, particularly in the evening, when the music tends to be a bit more upbeat.
Day 3 – Full day Santiago tour
An entire day for Santiago, capital of the "Orient" and the most Caribbean of all Cuban cities. Metropolis of music and the carnival.
In the morning, stroll through the city and take in the most important sights: Parque Cespedes, Calle Heredia and Plaza Dolores.
This tour includes a visit to Museum "Casa Diego Velazquez", Museum "Moncada", Museum "San Pedro del Morro", the fortress "San Pedro del Morro" and Cemetery "Santa Ifigenia".
Day 4 – Santiago de Cuba – Cayo Saetia – Holguin
Through the offshoots of the Sierra Maestra mountains to Cayo Saetia. Rustic lunch and time to swim and snorkel. Then continue to Holguin, the "city of parks".
Day 5 – Holguin – Playa Santa Lucia
Leave the city of Parks through the Las Tunas province to the beaches of Santa Lucia
Day 6 – Playa Santa Lucia
A day at leisure on the beach of Santa Lucia
Day 7 – Playa Santa Lucia – Camaguey – Trinidad
Leaving Santa Lucia to head to Camagüey, city of the "Tinajones" (large clay jugs). Afterwards continue the journey to Sancti Spiritus, a colonial town not yet discovered by the touristic mainstream. Stroll through the city and visit the Yayabo Bridge, a quadruple-arched bridge built by the Spanish in 1815 and today Sancti Spiritus most famous landmark. In the late afternoon continue to Trinidad, a UNESCO world cultural site with one of a kind colonial architecture.
Day 8 – Trinidad – Cienfuegos
Drive along a panoramic coastal road to Cienfuegos, a port city characterized by its French colonial architecture. Stroll over the Plaza Mayor with the nostalgic Terry Theater, where Caruso used to sing, and to the half island Punta Gorda with the "Moorish" Palacio del Valle and its typical wooden mansions.
Day 9 – Cienfuegos – Santa Clara – Havana
Early in the morning, head to Santa Clara, where Ché Guevara celebrated his biggest victory and found his last rest. Continue to Havana, taking the "Autopista A 1″ from Santa Clara via Jagüey Grande to Havana. Arrival in the capital in the late afternoon.
Visit of Memorial Ernesto "Che" Guevara, Museum "Tren Blindado" (This armored military train from the Revolution was derailed in Santa Clara by Ché, marking the rebel victory over the Batista regime).
 Day 10 – Havana city tour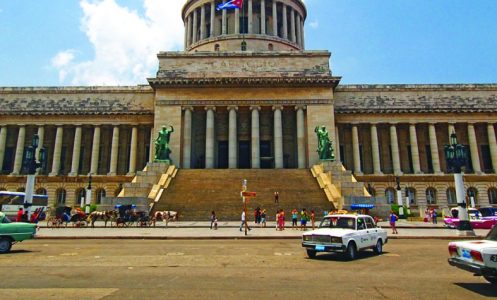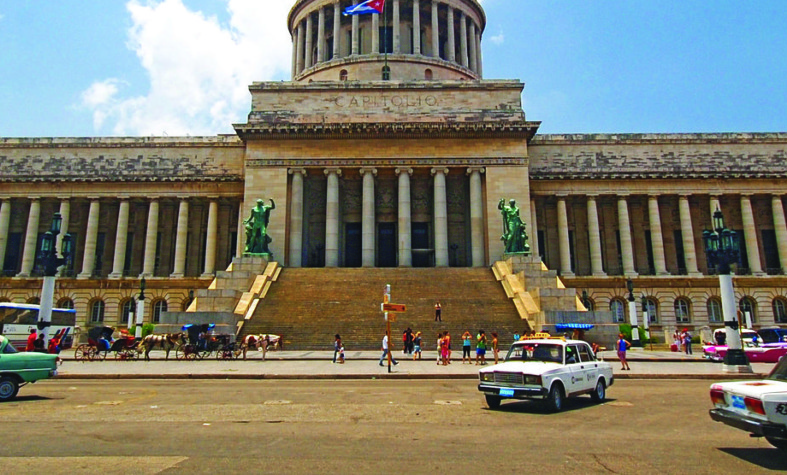 Havana is the crown jewel of Spanish colonial towns in the Caribbean. However, this city is much more than just a museum: the pulsating street life can be just as fascinating as the many architectural treasures. Today, you will get to know the most important sights of a city that has written centuries of Cuban history – and continues to do so until today.
Visit to one of the famous cigar factories (H. Upmann, La Corona, Partagas or Romeo & Julieta), followed by a panoramic tour through the Havana of the 19th and early 20th century: along the esplanade Malecón, past the legendary Hotel Nacional, over the Avenida de los Presidentes to the Revolutionary Square with its portrait of Ché Guevara and monument of José Martí. Continue to the imposing Capitol, past the Gran Teatro and Bacardí house over the Prado to Cathedral Square.
Continue on foot through the alleys and over the squares of Havana's historic colonial city center and take in the most important sights: Plaza de Armas, Templete, Palace of the Generals, Plaza Vieja, Hemingway's "Bodeguita" and much more.
Day 11 – Havana
A day at leisure in Havana.
Day 12 – Depart Havana
This morning you will be transferred after breakfast from your hotel to the airport in Havana. Your Cuba from East to West itinerary concludes here.
Inclusions
Inclusions
Arrival & departures transfers in all cities
All tours as mentioned in itinerary
11 nights accommodation in 3* and 4*Hotels – Breakfast included
Price based on two adults travelling together.
Not Included
International and internal flights
Items of personal nature
Drinks (alcoholic and non-alcoholic)
Tips to Drivers, guides and Porters
Airfares
Travel Just 4U has competitive South America Flights to get you to the starting point of your chosen Holiday. Contact one of our Travel Consultants for a full quotation including airfares, stopovers and any additional travel you wish to organize.
Other Cuba Experiences