Duration:
11 days - 10 nights
p.p. twin share. Excludes Airfares
Take $300 per person off on board the Akademik Sergey Vavilov and contact us for further discounts with this Cruise Company. 
The ultimate whale watching and wildlife expedition. By March, the short Antarctic summer is drawing to a close. Penguin chicks are almost fully-grown and quickly shedding their downy coats in preparation to take to the sea before the long winter. March is a time of great activity in and under the water where we have historically encountered a high concentration of whales, in particular, Humpback and Minke. Crabeater, Weddell and Leopard seal also often grace us with their presence, as they rest and store energy that will sustain them over the cold months ahead.
Experience the most memorable encounters with Antarctica's whales and seals.
On this special expedition, we are joined by several world-renowned cetaceans (whale) and marine mammal specialists. They share with us unique underwater footage and scientific data and help us interpret the behaviour, migration characteristics and feeding patterns of adult whales and their calves. For those with a passion for whales, this unique voyage should not be missed. Did we mention it's also our favourite time of the year for electric orange and pink Antarctic sunrises and sunsets?
Departs from Ushuaia – Return to Ushuaia
Start & End Dates:
March 3 – 13, 2019 (Ship: Akademik Sergey Vavilov)
March 23 – April 2, 2019 (Ship: Akademik Sergey Vavilov)
* Please note that the final cabin price is dependent on configuration, the USD exchange rate and availability.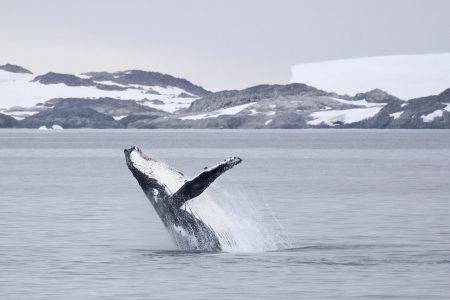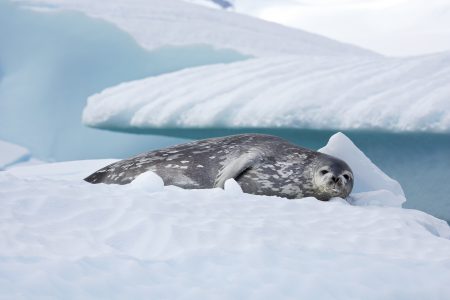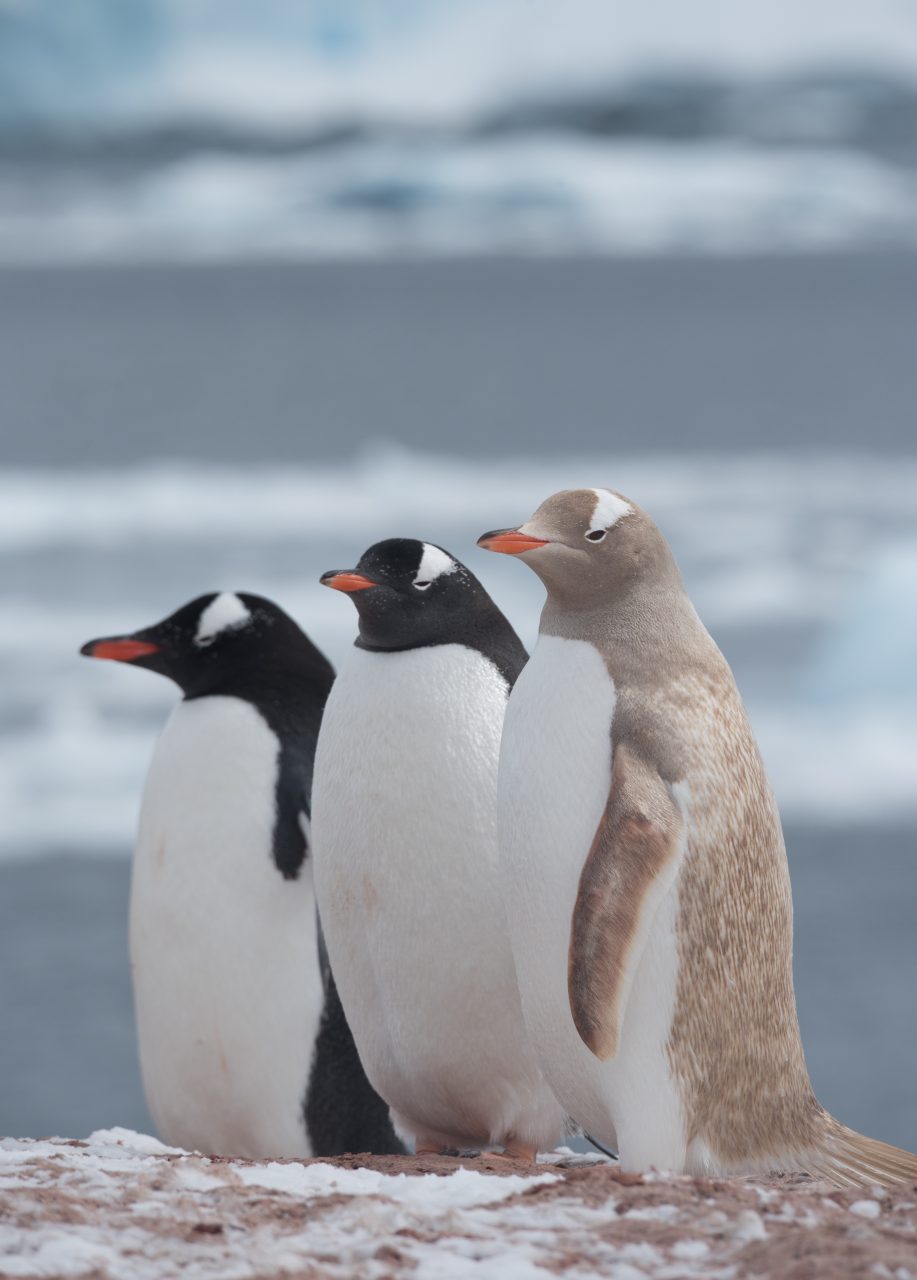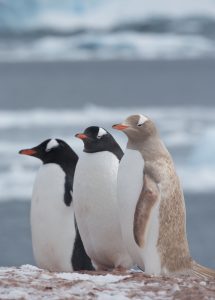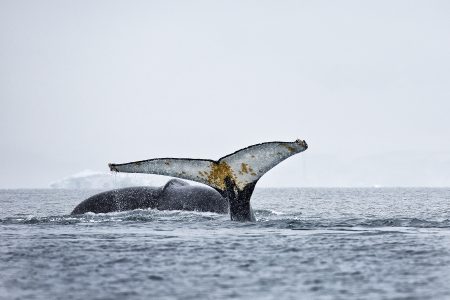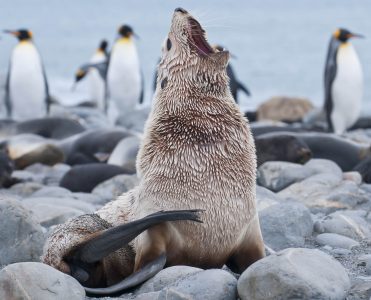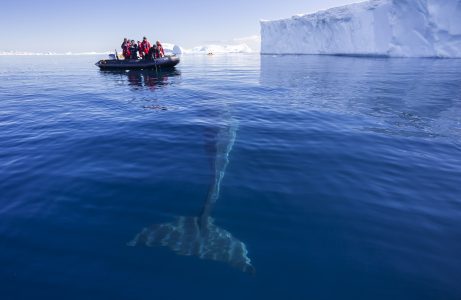 Overview
Overview
| | |
| --- | --- |
| Day 1 | Ushuaia, Argentina |
| Days 2 to 3 | Drake Passage |
| Days 4 to 7 | Antarctic Peninsula |
| Day 8 | South Shetland Island and Deception Island |
| Days 9 to 10 | Drake Passage |
| Day 11 | Ushuaia, Argentina |
Itinerary
Itinerary
Day 1 — Ushuaia, Argentina
We arrive in Ushuaia, Argentina, the world's most southerly city, where you board our expedition ship. In the early evening, we set sail, bound for Antarctica and the adventure of a lifetime.
Days 2 to 3— Drake Passage
We cross the Drake Passage, excitedly making our way closer to the white continent. Our expedition crew prepares us for our adventure with a series of presentations on everything Antarctic, but with a particular focus on the marine mammals, we hope to encounter. We will see our first icebergs, a huge variety of seabirds, and, with luck, several whale species. Watching wales fully breach out of the sea is a sight you'll remember forever.
Days 4 to 7 — Antarctic Peninsula
In the waterways of the Antarctic Peninsula, we take every opportunity to explore our surroundings in inflatable Zodiac boats. Planned excursions might include Wilhelmina Bay and the southerly Petermann Island, where we observe Weddell, Crabeater and Elephant seals, skuas and other seabirds, as well as a variety of penguins – including several colonies of the comical Adélie penguin. We also hope to see the gentle humpback whale dining on krill in its feeding grounds and may be lucky to observe Orcas and Minke whales along the way. This is the optimal time of the season for whale encounters and we visit several well-known whale 'hot-spots'. If ice conditions allow we attempt a transit of the dramatic Lemaire Channel. In addition to our whale encounters, we enjoy a regular program of exploration on and off the ship. Popular activities include guided hikes on shore and visits to wildlife colonies with our expert naturalist guides, while the historic huts and science stations provide a fascinating glimpse into the past and the present. Zodiac cruising among the ice is a memorable activity and our sea kayakers may range several miles from the ship. Our photography guide will be on hand to help you with your camera handling, image composition and the unique light found in Antarctica. All around us, there are oddly-shaped icebergs that look like sculptures and the size of the colossal 'tabular' icebergs that break away from the continent's ice shelf defy belief. After several busy days of exploration along the Peninsula, we head north across the Bransfield Strait, bound for the South Shetland Islands. This is an important whale migration corridor and frequent sightings can be expected of humpbacks and even the fast-moving orca.
Day 8 — South Shetland Island and Deception Island
The adventure is not over and if the weather conditions allow, we sail the ship into the flooded volcanic caldera at Deception Island. Several other landing sites nearby tempt us including Half Moon Island, or the broad pebbly beach at Yankee Harbour, where we often encounter Weddell seals. In the evening, we navigate north through the McFarlane Strait and into the Drake Passage, charting a course for South America.
Day 9 to 10 — Drake Passage
We leave this magical place and make our way north, heading again across the Antarctic Convergence. If weather conditions allow, we hope to make a rounding of Cape Horn. This fabled stretch of water is home to legendary tales of exploration and early navigation. It's a fitting place to reflect on a wonderful expedition. We celebrate the conclusion of our Polar expedition with a special dinner.
Day 11 — Ushuaia, Argentina
In the early morning, we arrive back in Ushuaia. After disembarkation, you are transferred to your Ushuaia hotel or the airport for your onward journey.
Inclusions
Inclusions
Educational presentations from experienced guides such as ornithologists, glaciologists, historians, geologists, naturalists and marine mammals experts.
Photography advises and instructions from the resident photographer. Extended photography workshops available on select departures
All zodiac and landing excursions.
Zodiac cruising, hiking, guided walks, photography workshops, fitness & yoga.
All meals during the voyage prepared by One Ocean Expeditions chefs.
Welcome reception & welcome dinner.
One Ocean Expeditions Farewell dinner hosted by the Captain.
Daily afternoon tea with fresh snacks.
Coffee, tea & hot chocolate available anytime.
Access to wellness area (Finnish Sauna, Plunge Pool filled with sea water, Hot Tub).
Natural essential oil amenities.
Services of English speaking medical officer.
Use of multimedia room to download images. Lightroom, Adobe, Photoshop and card readers are available for use on MAC and PC computers.
Windproof/waterproof jacket and bib pants.
Comfortable insulated rubber boots.
Water resistant binoculars.
Waterproof backpack.
Trekking poles available on shore.
From/ to designated meeting points to/from the ship.
Additional transfers in welcome / departure cities (only applicable on certain departures).
Luggage transfer from designated locations to/from your cabin.
Not included
International airfare
Passport and visa expenses
Government arrival and departure taxes not mentioned above
Meals ashore unless otherwise specified
Comprehensive travel insurance
Excess baggage charges
Waterproof pants for Zodiac cruising, or any other gear not mentioned
Laundry, bar, beverage and other personal charges unless specified
Phone and internet charges
Voluntary gratuity at the end of the voyage for shipboard staff and crew
Additional overnight accommodation
Optional kayaking activities
Extras
Sea Kayaking at an extra cost of US$695 – Arctic & Torngat Explorer (Canada's East Coast 'Fins and Fiddles' & 'Golf Expedition' sea kayaking is complimentary), US$795 – Antarctic (Epic Antarctica: USD1590, Chilean Fjords: USD495) per person. Pre-registration required at time of booking. Confirmed access to kayak at any offered excursion. Limited to 16 passengers per voyage. Includes high-quality kayaking equipment.
Sea Kayaking, Stand up Paddling and Cycling including gear free of charge (Fins and Fiddles and Golf Expedition departures only).
Overnight Camping (Antarctica only, included in the voyage price) including high-quality equipment. No pre-registration required. Camping is available on select departures only and can be affected by itinerary and weather conditions. Please see your full itinerary for further details.
Airfares
Travel Just 4U has competitive South America Flights to get you to the starting point of your chosen Holiday. Contact one of our Travel Consultants for a full quotation including airfares, stopovers and any additional travel you wish to organize.
Other Antarctica Experiences