p.p. twin share. Excludes Airfares
Peru Icons explores the best cultural, natural, and historical highlights across the country over 12 days. Starting in the modern capital city of Lima then crossing into the Andean Mountains via Arequipa and the Colca Canyon where you will experience the majestic Andean Condors soaring through the sky.  Continuing on to Cusco, you will explore the capital of the Inca Empire and the gateway to the world famous Machu Picchu.
No trip to South America is complete without a visit to Peru and with this itinerary, you will be able to experience a range of Peru's Icons in only 12 days.
The below itinerary is fully flexible on departure dates and can be modified to your own personal travel preferences, please contact us for an obligation free enquiry.
Overview
Overview
| | |
| --- | --- |
| Day 1-2 | Lima – City tour of the Peruvian Capital |
| Day 3-4 | Arrive in Arequipa, City tour |
| Day 5-6 | Visit Colca Canyon, view the volcanoes and soaring Andean Condors |
| Day 7-8 | Cusco – City Tour of Cusco and acclimatise to the altitude |
| Day 9 | Journey to Sacred Valley to visit the ruins of the Incas |
| Day 10 | Journey to Agua Calientes and arrive in Machu Picchu |
| Day 11 | Journey from Machu Picchu back to Cusco |
| Day 12 | Depart Cusco for your next adventure |
Itinerary
Itinerary
Day 1 – Arrive Lima
Airport transfer to hotel. The rest of the day is at your leisure. Overnight Lima.
Day 2 – Sightseeing Lima
After breakfast there is a half day tour to explore Lima's ancient history through its colonial and modern sites.
Peru's capital is a rich kaleidoscope of colonial architectural jewels, revered pre-Columbian sites, charming residential areas, and vibrant shopping districts perched over the blue Pacific. Explore these many facets, including the 16th century Plaza Mayor (Main Square) – still graced by the Government Palace and the City Hall. You will also visit the Cathedral and the San Francisco Convent, built in the 17th century, and its "Catacombs" ancient underground cemetery of Lima. The tour continues along the city's lovely Pacific coast through the enchanting neighbourhoods of San Isidro, Miraflores and Larco Mar.
Day 3 – From Lima to Arequipa
After breakfast your guide will meet you in the lobby of your hotel for your departure transfer to Lima airport for your flight Lima-Arequipa (Lima-Arequipa flight is not included in the package price and is quoted separately).
When you arrive into Arequipa your guide will meet you on arrival and transfer you to your hotel for the next two nights. This afternoon you will have at leisure, we recommend having a wonder through the town, try local delicacies and soak up the rich Peruvian culture Arequipa is renowned for.
Day 4 – Arequipa half day city tour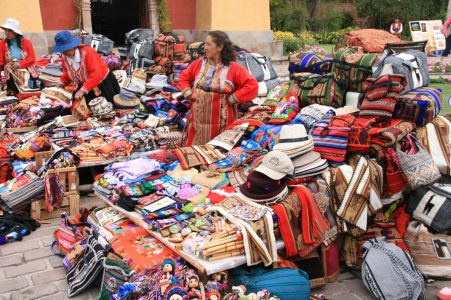 Today is a morning tour of Arequipa, whose historic centre was named a UNESCO World Heritage Site in 2000, in recognition of its architecture and historic integrity.  This morning tour includes the Santa Catalina Monastery built in 1580 and currently home to a small number of nuns.  The remainder of the day to explore Arequipa on your own or have a relaxing afternoon and take in some of the historical sights you have witnessed.
Day 5 – From Arequipa to Colca Canyon/Chivay
After a relaxing morning your journey continues to the Colca Canyon, this coach trip is stunning as you travel past the spectacular Misti and Chachani volcanoes and hot springs. Once you arrive in Chivay your driver will take you to view Colca Canyon and then you are able to have a relaxing afternoon in the thermal springs of Chivay, a perfect way to relax and soak up the atmosphere and culture of Peru.
Day 6 – Sightseeing Colca Canyon & Journey Back to Arequipa
The Colca Canyon is the world's deepest canyon and twice as big as the Grand Canyon, the magnificent sight presents amazing photographic landscape opportunities for photographers and even better if you can catch a condor gliding in the skyline.
After the Colca Canyon, you will journey by coach back to Arequipa. Enjoy your evening in Arequipa and taste the local food in one of the many restaurants surrounding the Plaza Mayor.
Day 7 – From Arequipa to Cusco
After breakfast your guide will transfer you to Arequipa airport for your flight from Arequipa to Cuzco. (Flight Arequipa to Cusco is not included in package price). Cusco was the capital of the Inca Empire and has an elevation of 3,400m above sea level.  We recommend you spend the rest of first day in Cusco at leisure to allow your body to adjust to the altitude.
Cusco is also the archaeological capital of South America and for good reason.  It is one of the most important destinations in Peru and the gateway to one of the world's most sacred ruins of an amazing ancient culture.  With a mix of Spanish and Ancient Incan cultures, there are cobble-stoned streets, interwoven stone walls, Incan buildings, Andean Baroque structures from the Colonial Period like the Cathedral.  You can stroll through the picturesque neighbourhood of San Blas or dine in one of the many modern cafes, bars and restaurants. Overnight Cusco.
Day 8 – Sightseeing Cusco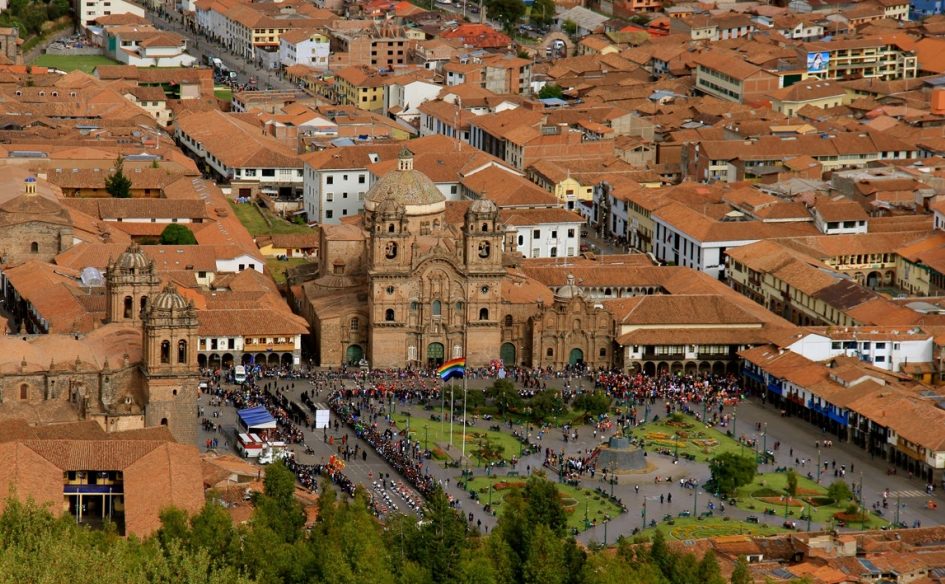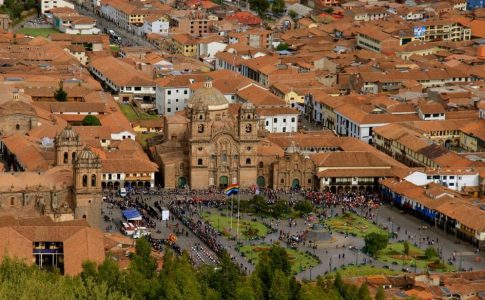 It's an early start to the day with a half day sightseeing tour of Cusco.  The tour today takes you to visit the Korikancha (Temple of the Sun), the Cathedral, and then continuing onto the nearby archaeological sites of of Tambomachay (Inca Fountains), Puca-Pukara (the red fortress), Qenko (Scared site) and finally the famous gigantic Inca fortress of Sacsayhuaman. The many restaurants in your Hotel vicinity will let you sample the delicious Peruvian Cuisine.
Day 9 – Journey from Cusco to Sacred Valley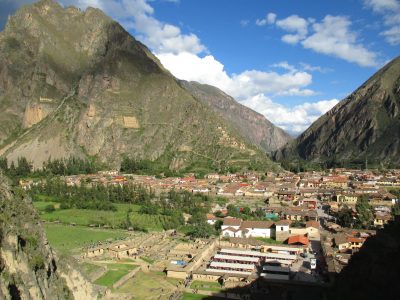 Today you will have a full day sightseeing to the Sacred Valley of the Incas. The Sacred Valley is home to some breathtaking towns and sites including Maras, Moray, the fortress of Ollantaytambo and Pisac. Seeing these ruins and visiting the towns will enlighten your knowledge of just how sophisticated the Incas were and an insight into their ancient way of life.  Enjoy the sights at your leisure and perhaps visit the colourful market of Pisac.
Day 10 – Journey from Sacred Valley to Machu Picchu
Machu Picchu is one of the main attractions when visiting Peru. Today is the day you will not only see Machu Picchu but you will breathe the magic and the beauty of Machu Picchu!
Your full day Machu Picchu tour starts off with a transfer and train to Aguas Calientes for your bus ride up to Machu Picchu. This is an excellent option for those who do not have time to hike the Inca Trail or wish not to. Soak up the significance of your visit, enjoy the beautiful location and marvel in the intellect and architectural ability of the ancient Incan culture.  It is amazing and spectacular just how appropriately located Machu Picchu is in its complimenting surroundings. The Inca Trail Walk can also be arranged for those wishing to experience the beautiful hike to Machu Picchu.
Due to Machu Picchu's popularity with all travellers, we suggest that you go back for a second visit early the following morning before the trains arrive with the day tours.  Spending time in the lost city of the Incas, soaking up the atmosphere without the crowds is a real spiritual experience.  Hotels are located in Aguas Calientes and there is also an option to stay at the Orient Express Hotel at the entrance gate into Machu Picchu. Please advise if you would like us to quote for this.
Also to consider is the climb up Huayna Picchu Mountain, tickets are limited and pre-booking is required. Please let us know if you wish to add it to your itinerary.
Day 11 –  Journey from Machu Picchu to Cusco
After a relaxing morning in Machu Picchu or Aguas Calientes, we will take you back by train to your Cusco hotel. On arrival into Cusco you have the remainder of the day to relax, dine, wander through the colourful markets or get last minute souvenirs to remember your time here.
Day 12 – Depart Cusco
After breakfast your Peru Icons adventure concludes with a departure transfer to Cusco airport or train station.
Inclusions
Inclusions
2 nights accommodation  in Lima
3 nights accommodation  in Arequipa
1 night accommodation  in Chivay
3 nights accommodation in Cuzco
1 night accommodation in Sacred Valley
1 night accommodation in Aguas Calientes (Machu Picchu)
Arrival & Departure Transfers in Lima
Full day sightseeing tour of Lima including the City, Larco or Gold Museum
Arrival and Departure transfers in Arequipa
Colca Canyon Tour Seat in Coach including Condor Viewing Excursion
Arrival and Departure transfer in Cusco
Vista Dome train to Aguas Calientes
Return Coach Transfer Aguas Calientes to Machu Picchu
Half day City Tour in Arequipa
Full day Tour of Sacred Valley
Full day Tour of Machu Picchu
Breakfast daily
Not included
International and internal flights
Items of personal nature
Drink alcoholic and non-alcoholic
Tips to Drivers, guides and Porters
Airfares
Travel Just 4U  has competitive South America Flights to get you to the starting point of your chosen Holiday. Contact our Travel Consultants for a full quotation including airfares, stopovers and any additional travel you wish to organize.