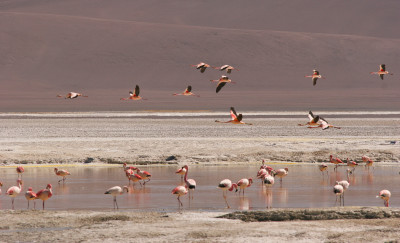 Travel Just 4U's travel consultant Soraya, travelled to South America to spend time in the breathtaking San Pedro de Atacama in Chile.
Upon arrival, the sight of the highest peaks of the Andes Mountains was without a doubt one of the most breathtaking panoramic views I have seen. It simply took my breath away. With great anticipation, I looked forward to spending a few days exploring the beautiful landscapes and eternally blue skies.
Located in an oasis at 2,500 m. I stayed in Alto Atacama, one of our accommodation providers in the area. Built to fit gently within the landscape, this hotel maintains the untouched beauty of the desert. Their living room has a great fireplace, providing warmth in the cold nights while you browse through the books at the library. The outdoor lounge areas have small fire pits that light up every night where you can enjoy the sunset and the majesty of nightfall. The rooms are comfortable yet simply elegant accompanied with a private terrace to take in the scenery.
Known as the driest place in the world, I was surprised at the rich variety of vegetation and their ability to adapt to this extreme environment. Small hills, called lomas, keep enough moisture for seasonal plants and a few species to survive. Birds were the most common sight. I was lucky enough to watch Andean flamingos and capture their beautiful pink feathers during one of the guided excursions. Then back at the hotel, I enjoyed the spa facilities before enjoying a beautiful meal with local ingredients at the restaurant.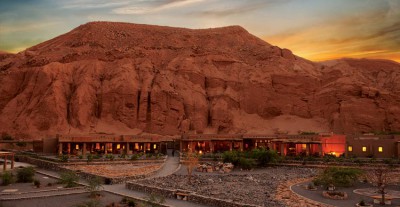 But the best was yet to come. Due to its high altitude, nearly non-existent cloud cover and lack of pollution, Atacama Desert is one of the best places in the world to contemplate the stars. As part of the package, I enjoyed an astronomic tour and that very night, I looked up to the sky with a new perspective.
San Pedro de Atacama is like nothing I seen before.
A destination for adventurous hearts, those looking to escape the stress of the city or perhaps those in search of a place to celebrate love.