Duration:
10 days - 9 nights
p.p. twin share. Excludes Airfares
Amazon & Galapagos
Discover Ecuador on a journey through wild Amazon & Galapagos. This package will take you through the heart of Ecuador to encounter colourful birds and exotic animals from the one of the best lodge in the area, located on the Rio Napo and on the border with Yasuni National Park Venture. Then from the Andes highlands of Quito to snorkel with sea lions, spot blue-footed boobies and will visit four of the most famous islands in the Galapagos. You'll experience it all!!
Overview
Overview
| | |
| --- | --- |
| Day 1 | Arrival in Quito and day at leisure |
| Day 2 | Quito to Amazon Lodge all-Inclusive Program |
| Day 3 | Explore the Amazon |
| Day 4 | Explore the Amazon |
| Day 5 | Amazon to Quito |
| Day 6 | Quito to Galapagos – Santa Cruz Island |
| Day 7 | Visit Bartholome Island |
| Day 8 | Visit North Seymour Island |
| Day 9 | Visit South Plazas Island |
| Day 10 | Departure from Galapagos Island |
Itinerary
Day 1 – Arrival in Quito 
Transfer from the airport to the hotel. A bilingual guide will pick you up from the airport and will transfer you to the hotel. He/ She will be able to assist you in anything you may need. Accommodation in Quito.
Day 2 – Quito to Amazon Lodge all-inclusive Program (B, L, D)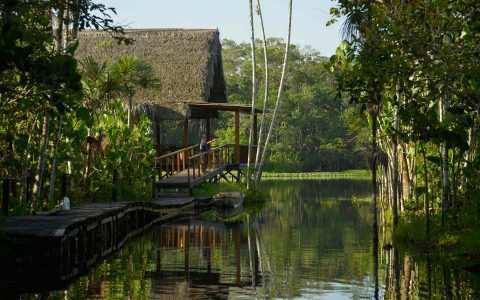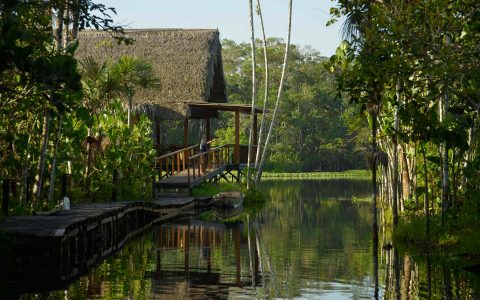 Depart Quito´s airport at 11:00 am (subject to change). A 30-minute flight over the Andes Mountains leads you to a bustling oil town called Coca located in the Amazon Basin. A quick lunch in Sacha´s private house and then we drive to the town docks where you will board Sacha´s private canoes for the 2-hour journey down the river to Sacha´s Lodges property. A 30-minute hike through the rainforest leads you to lake Pilchicocha. Here, you are met by native workers to paddle you across the lake to your final destination. Arrive at Sacha Lodge around 15:30 or 16:00 pm. Swim in Lake Pilchicocha, which is a black water lake home to many species of fish and animals. A refreshing swim after arriving may be just what you need after being in the equatorial heat all day. Bird observing from the mini tower offers guests an excellent opportunity to view several species of birds common around the lodge. It is also a great place to watch the sun set. Visit the butterfly house with your naturalist guide to view the beautiful colors of many different species of butterflies. After dinner, accompany your naturalist guide on a night walk through the rainforest to view the hundreds of different species of animals that can only be found at night. Or maybe a canoe ride on the lake to view the spectacled and black caimans with their glowing orange eyes as you silently paddle across the lake to get a closer view.
Day 3 – Explore the Amazon  (B, L, D)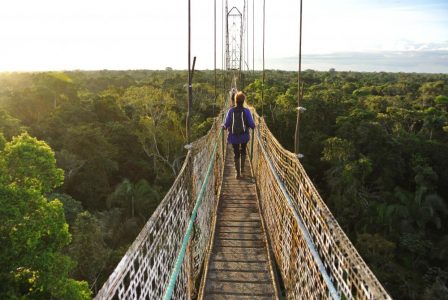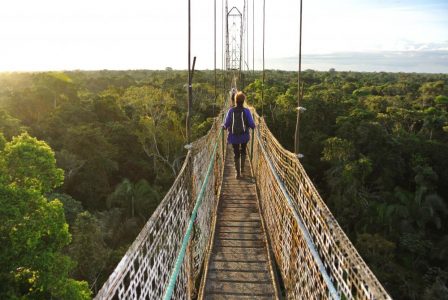 Morning activities begin between 6:00 and 7:00. We walk on the trail "Liana Chica" and arrive at the canopy walk, for spectacular views of the rainforest canopy and the many different species of vibrantly colored birds. Designed to be a self-standing rigid suspension canopy walk, it is one of only a few in the world! Located within Sacha´s private reserve, 2 miles from the shores of the Rio Napo and 1 mile from the lodge, the bird walk gives guests the opportunity to get an up close and personal view of the rainforest canopy. Two of the three towers have observation decks, 12 meters high, making it accessible for everyone.
The canopy walkway is at 36 meters high and 275 meters long, giving guests a "birds eye view" of all the wonders and beauty the tropical rainforest has to offer. The canopy walk is designed as a sturdy walkway enabling guests to casually move along while enjoying the spectacular views. After the canopy walk, Liana Grande through terra firma and Igapó forest habitats where native guides will explain many different species of medicinal plants that have been being used in their culture for hundreds of years. Liana Grande will turn into the trail Higuerón, which will take you through pristine primary forest with huge Kapok and Fig trees towering hundreds of feet above your head. After lunch, you may choose to take a leisurely hike along the Rio Napo, or choose a little more challenging hike on the trail Leoncillo to try and spot the elusive dusky titi monkey. Either way the trails will lead you back to the main boardwalk for your final hike and canoe ride back to the lodge
Day 4 – Explore the Amazon  (B, L, D)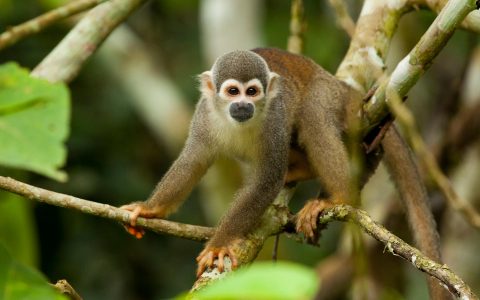 Leaving the lodge after breakfast, you begin your hike on trail Lagartococha. This trail offers you the chance to learn more about the native people and their relationship with the forest. Learn about the trees where native people believe the spirits of their ancestors live, and the mysterious "dwende" or devil-man of the forest. After arriving at lake Lagartococha, take a tranquil canoe ride through a natural swamp, which is the home of anacondas, caimans, and capybaras. After the canoe ride, a walk on the other side of Largatococha may give you the opportunity to spot capuchins or squirrel monkeys playfully jumping through the trees. These waters are home to many creatures such as caimans, electric eels and giant otters among others. Swimming is possible as long as you follow your guide's instructions and keep yourself always inside the designated areas. During giant otters and caiman breeding time the lake could be closed for swimming. Around 15:30 you will begin what many think is the best excursion at Sacha, a silent canoe ride through the flooded Amazonian forest, where you have a good chance of being surrounded by troops of squirrels, capuchins and howler monkeys. Keep your eyes peeled for the shy and elusive river otter as well as the incredibly well camouflaged three-toed sloth! After your eye-popping ride through the flooded forest, you will arrive at Sacha´s 135-foot wooden tower built around an ancient Kapok tree. Get close up views of vibrantly colored birds through Sacha´s powerful scopes, and watch the sunset with an amazing view of Mount Sumaco, a volcano, and possibly a view of the snow-covered caps of the Andes! Leaving the tower just before or after sunset will give you an experience not soon forgotten. A canoe ride back through the flooded forest at night will be an awe-inspiring experience. Listen to the symphony of frogs and insects as you navigate through the narrow flooded forest trail, keeping your eyes open for caimans.
Watch the several species of bats flying over your heads and listen to the many species of nocturnal birds making their eerie nighttime calls. Finally, after your mesmerizing canoe trip through the Amazon, you will arrive back at lake Pilchicocha and the welcoming lights of Sacha Lodge.
Day 5 –  Amazon to Quito  (B)
Breakfast and departure from the lodge at 7:30am for an easy walk on the boardwalk to watch monkeys one last time before your final departure. 2-hour canoe ride back to Coca for your 35-minute flight back to Quito. Scheduled arrival at Quito´s airport is at 12:30pm (subject to change). Transfer in Quito. Accommodation in selected hotel.
Day 6 –  Quito to Santa Cruz Island (Galapagos)  (B,L)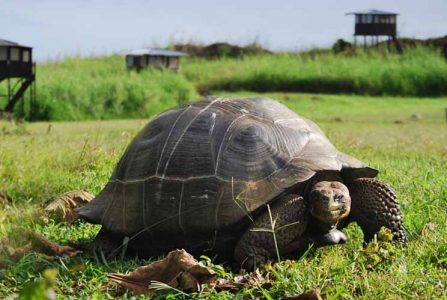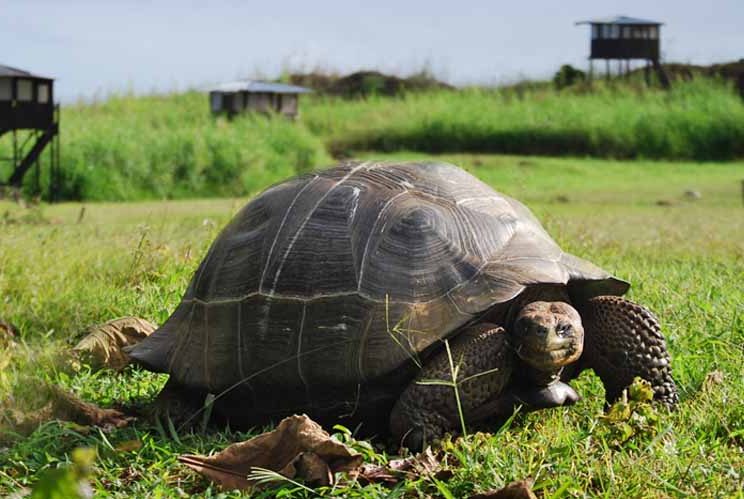 After breakfast a bilingual guide will pick you up from the hotel and will transfer you to the airport. He/ She will be able to assist you in anything you may need. Arriving to Baltra we will take a shuttle to Santa Cruz Island where we will reach the highlands of the Islands with its green vegetation where we will stop to visit a Ranch, here we will be able to see Giant Turtles in their natural habitat. Lunch at the ranch. Then we will head to the Charles Darwin Station. The center is a reservoir of information on habitats and local conservation, as well as other fascinating relevant statistics. The most striking attraction of this station is certainly the Tortoise Breeding Center, where it is possible to view tortoises of varied sizes and shapes. Travelers here can freely walk and get their photos clicked with the tortoises. Among other inhabitants at the center, you can see the land and marine iguanas and different species of birds. Accommodation in Santa Cruz.
Day 7 – Bartholome Island (Galapagos)  (B,L)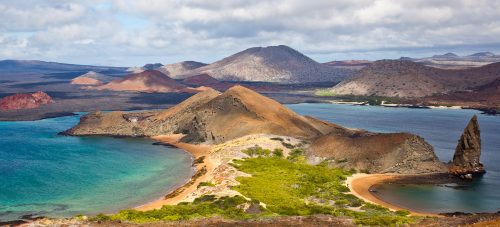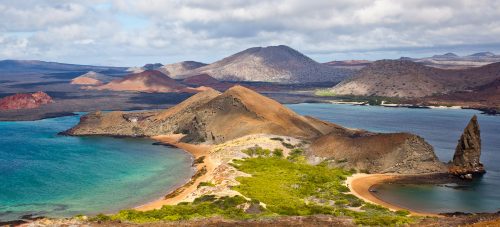 Early in the morning, transfer to Baltra to start our first navigable tour to Bartolome, breakfast on board. Bartolome is a small island located next to Santiago Island. One of the Islands´ principal attractions is the "pinnacle rock" In order to see it properly will make a medium level hike for around and hour. In this excursion you will learn from the volcanic landscape of the island and see different species such as: lava lizard or cacti, once we reach the top will have a magnificent view of the Pinnacle rock in contrast with the volcanic landscape blended with the turquoise waters of the surrounding beaches. After the excursion we will proceed to do snorkeling in one of the coral beaches of the areas where if we are lucky we will see: Marine turtles, sea lions, multicolor fish and penguins. Lunch will be on board in the afternoon we will return to hotel. Accommodation in selected hotel.
Day 8 – North Seymour Island (Galapagos)  (B,L)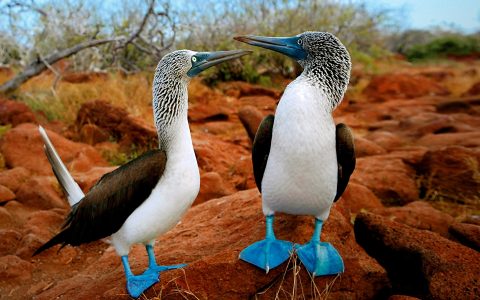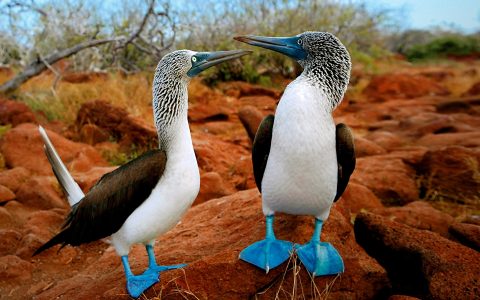 This day you will have the opportunity to do a navigable excursion to another Island, in order to discover the diversity of the Galapagos Islands. The tour consists a hike around the island and afterwards you can snorkel, swim or just relax.
North Seymour is a 1.9 km² island located northbound from Baltra. The main fauna species of this island are Land Iguanas, the Magnificent Frigate bird with their incredible scarlet regular pouch, blue-footed boobies and their particular courtship dance and sea lions surfing across the waves. Lunch on board. Accommodation in Santa Cruz.
Day 9 – South Plazas Island (Galapagos)  (B,L)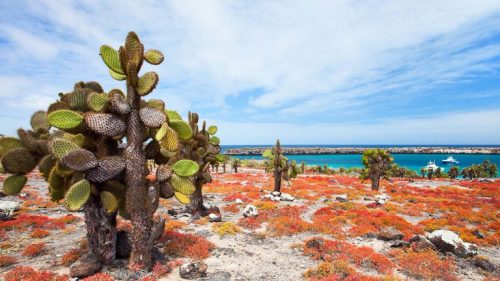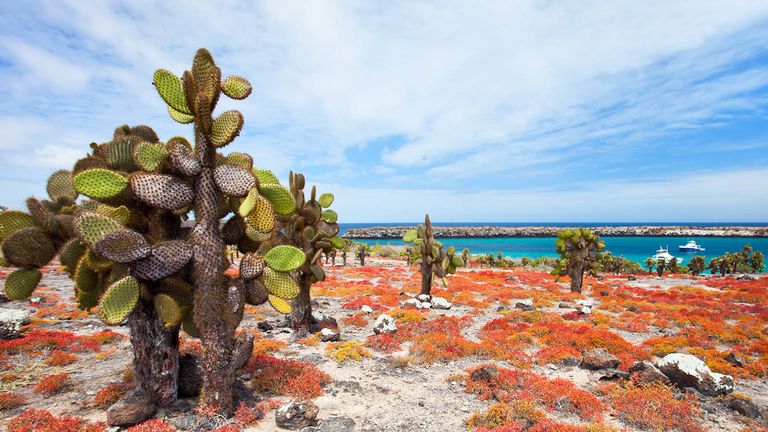 This day you will have the opportunity to do a navigable excursion to another Island, in order to discover the diversity of the Galapagos Islands. The tour consists a hike around the island and afterwards you can snorkel, swim or just relax.
South Plazas is situated on the east cost of Santa Cruz Island, it`s formed from uplifted marine lava and is one of the smallest island on the archipelago. This Island despite its size has a lot of concentration of wildlife. We will disembark in a small dock frequently occupied by sea lions. After this we will continue through a small forest of prickly pear cacti with their yellow flowers where could be lots of land iguanas waiting for their fruits and flowers fall of to the ground, to get finally up to the cliff, where you can often see a shoal of the endemic yellow-tailed mullet. The cliff is an excellent to view swallow-tailed gulls, tropic bird, frigate birds, pelicans, at the eastern end of the island bull sea lions congregate there to rest after losing their territory and recover energy and try to be again the beach master. Accommodation in Santa Cruz.
Day 10 – Depart Galapagos (B)
Transfer to the airport, our English assistant will be waiting you to take you to the airport. Arrival to the airport, check-in assistance and flight back.
Conditions apply
Conditions apply
This exclusive offer is valid only for confirmed bookings made before the 30th of November 2017.
Inclusions
Inclusions
Arrival & departures transfers in all cities
All tours as mentioned in itinerary
Professional local English speaking guides
9 nights accommodation in 3* and 4*Hotels – Breakfast included
All meals mentioned in the itinerary
Price based on two adults travelling together
 Not Included
International and internal flights and Airport taxes
Items of personal nature
Drinks (alcoholic and non-alcoholic)
Tips to drivers, guides and porters
Health and travel insurances
Meals not mentioned in the program
Other services not specified in the itinerary
Airfares
Travel Just 4U has competitive South America Flights to get you to the starting point of your chosen Holiday. Contact one of our Travel Consultants for a full quotation including airfares, stopovers and any additional travel you wish to organize.
Other Ecuador Experiences