Duration:
18 days - 17 nights
p.p. twin share. Excludes Airfares
This "Brazil with a Difference" suggested itinerary starts with the awe inspiring Iguazu Falls, then a train journey from Curitiba that crosses rugged mountain ranges, we visit the city of Sao Paulo, the historical Paraty and then the party capital of Rio De Janeiro with one of the most photographed statues in the world, the Christ Redeemer. Finally there are two relaxing days at the beautiful beaches of Buzios before the tour concludes back in Rio De Janeiro. This Brazil travel itinerary has a couple of days at leisure built in to give you some time to relax and enjoy yourself! Simply fabulous!
Overview
Overview
| | |
| --- | --- |
| Day 1 | Arrive at Iguazu Falls & sightseeing tour (Argentina) |
| Day 2 | Sightseeing tour Iguazu Falls from the other side! (Brazil) |
| Day 3 | Transfer to Curitiba |
| Day 4 | Full day Serro do Mar with a train journey through the mountains from Curitiba to Morretes |
| Day 5 | Journey to the oasis of Ilha do Mel (Honey Island) |
| Day 6 | Curitiba at your leisure |
| Day 7 – 8 | Transfer to Sao Paulo & Sightseeing tour |
| Day 9 -11 | Travel to the beaches of Paraty, sightseeing & relaxing at your leisure |
| Day 12 – 13 | Arrive in Rio De Janeiro & sightseeing tour including the Christ Redeemer & Sugar Loaf Mountain |
| Day 14 | Rio at your leisure |
| Day 15 – 17 | Relax & explore the beaches, cobbled streets, shops & cuisine of Buzios |
| Day 18 | Return to Rio De Janeiro for your onward journey / next adventure! |
Itinerary
Itinerary
Day 1 – Arrive Iguazu (Argentina) & Sightseeing Iguazu Falls

Upon your arrival at Iguazu airport you will be transferred to your hotel. After checking into your hotel your guide will be waiting for you to take you to Iguazu Falls on the Argentinean border.
First stop with be a visit to the visitor centre inside Iguazu National Park. At the visitor centre, you will catch a special purpose train that will take you to the upper path, lower path and the ferocious devils throat platform. The upper path is 500 meters long and last about 45 minutes seeing the waterfalls Two Sisters, Bosseti, Adam and Eve, Bernabe Mendez, Mbiguá and San Martín falls from the upper part. For the lower path of the falls a guide will walk you around 1,300 meters of footpath for approximately 1.5hours. The view is unique and distinctive and well worth the walk as you will be able to view the falls right in the middle! There is a chance you might get wet! The last viewing point is the Devils Throat, which surrounds the upper part of the Iguazu River, and you can walk to the balcony of Devil's throat for the most spectacular view of all. There are plenty of photo opportunities on this tour and we would suggest making sure your video is charged to be able to capture the full impact of this catapulting and thunderous waterfall. Overnight Iguazu Falls.
Day 2 – Sightseeing Iguazu Falls (Brazilian side)
Yesterday you saw Iguazu falls from the Argentinean side of the boarder and now today you will able to observe the natural wondrous falls from the Brazilian side. Included in this package is a half-day tour which will take you over to the Brazilian border (visa required before departing Australia) for a panoramic view of the falls almost 3 km long and 270 cascades. It's a 1000 m (approximately 1 Hour) of easy walking starting from the las Cataratas Hotel and finishing in the canyon of the Devil's Throat. The round trip takes approximately three hours. After the half day tour you will be taken back to your hotel for an afternoon at your leisure. Overnight Iguazu Falls.
Optional: There is an opportunity to book an optional Helicopter ride over the falls and visit the Bird Park on the Brazilian side of the Iguazu Falls.
From both the Argentinian and Brazilian side of the Falls there are opportunities to go on exciting Safari Boat trips and get real close to these majestic Falls (be prepared to get wet).
Day 3 – From Iguazu to Curitiba
This morning you will have some time to relax before your journey to Iguazu falls concludes. You will then be taken to the airport for your next adventure. Your flight from Iguazu falls to Curitiba is not included in the package price and is quoted separately.
On your arrival into Curitiba you will have a transfer to your hotel situated in the heart of the city. After you have arrived at your hotel you will have the remainder of the day free to explore the city and take in first hand archaeological architecture Curitiba has to offer.
Day 4 – Sightseeing from Curitiba to Morretes
One of the most fascinating and famous journeys in Curitiba is the train journey through the mountains of the Serra do Mar over mountain passes, along valleys and through tunnels, to disembark at Morretes. After a short tour of this small town, you continue by bus through the vast Serra do Mar mountain range to the town of Antonina, where you visit the historic center, the municipal theatre and Pilar Church amongst others. From this privileged location, you are rewarded with panoramic views of the impressive Antonina Bay. You then return to Morretes by train for a delicious traditional "barreado" lunch (Barreado is a coastal dish with fish, shrimp and banana rum prepared in a clay pot). The return to Curitiba crosses the Serra da Graciosa, another rugged mountain range that has been officially declared an environmental protection zone.
Overall, this is a great tour option if you are visiting the area. You will see amazing landscapes, rich animal and vegetation biodiversity, canyons and gorges, waterfalls and a whole lot more!
Day 5 – Sightseeing from Curitiba to Ilha do Mel (Honey Island) – Tour time 9 hrs
Today you will be introduced to a very special place indeed, the oasis of Ilha do Mel. Your journey to the Ilha do Mel starts off with crossing the Serra do Mar, heading towards Pontal do Sul. From there, we will travel by boat to Honey Island (Ilha do Mel) and its beautiful beach, Encantadas. Ilha do Mel is an amazing place, it has no cars or roads, it is as you would imagine, a peaceful ecological paradise. You will have free time to be able to take in the beautiful beaches without interference, appreciate the views from the lighthouse without disturbance and take a tranquil stroll along the beach and smell the sea.
In the evening, we will return by boat to Pontal do Sul and then back to Curitiba for overnight.
Day 6 – Sightseeing Curitiba at your Leisure
With two wonderful excursions in the past two days, today is yours to wander through the city or relax, eat, drink and just relish in the realization you are in Brazil!
In the city of Curitiba there are many famous streets to visit such as passing through the main commercial and financial street of Curitiba – Marechal Deodoro Avenue. The stunning Rua das Flores (the Flowers Street) – a street designed exclusively for pedestrians, Rua 24 Horas (the 24 hours street) with a variety of services and stores that are open 24 hours, the Guaira Theather, the Federal University of Parana State with its neoclassical architecture built in 1890, the Palacio Iguaçu (State House), the State House of representatives and the Court House of the State. We will also visit the Opera de Arame (the Opera House) with its unique construction using only steel pipes and glass, The Environmental Free University, Tingui and Tangua Parks with huge preserved green areas, the Historical Sector of the City with its old houses and buildings that date back to the XVIII and XIX centuries, including the Flowers Clock and city Memorial are just a few places you can visit while in this unique city.
Day 7 – From Curitiba to Sao Paulo
After breakfast you will meet your guide in the lobby of your hotel for your transfer to the airport to meet your flight from Curitiba to Sao Paulo. (Flight Curitiba to Sao Paulo is not included in package price and is quoted separately).
Upon your arrival transfer from the airport to your accommodation you will see just how big and diverse Sao Paulo is. Most of the visitor attractions are located in one area which is close to the hotel we have selected for you, plus you are just down the road to some fantastic Brazilian cuisine restaurants.
Day 8 – Sightseeing Sao Paulo
Acquainting oneself with Sao Paulo is the best way to live and breathe Sao Paulo! We have included a half day sightseeing tour taking in some of the best highlights this vibrant city has to offer. In a few short hours you will have the opportunity to visit the main points of the city such as the Cathedral, the Patio do Colegio, the foundation site of this metropolis. Then from downtown area, we will pass by the Liberdade district, (Japanese Neighbourhood) and then continue to the most sophisticated areas of Sao Paulo, the Paulista Avenue area, where the MASP – Modern Art Sao Paulo Museum is located with its fabulous collection. We will also visit the Jardins neighbourhood, for its upmarket stores and elegant houses. We will proceed to the Ibirapuera Park with its 160 hectare of area, and also home to famous landmarks such as "Monumento as Bandeiras" and many famous buildings including the Oca and Auditorium designed by Oscar Niemeyer, a respected and famous Brazilian Architect. Overnight Sao Paolo
Day 9 – From Sao Paulo to Paraty
Many travellers fly from Sao Paulo to Rio, but in doing so they miss out on the opportunity to behold the unique landscape Paraty has to offer. Your Paraty Getaway starts this morning with a 340km transfer from Sao Paulo to Paraty (approx. 5 hours), along the way you will have the opportunity to stop in local towns and view a mixture of ocean and mountain landscapes worthy of a few photographic shots! The hotels we have selected are situated on the beach of Paraty with a short stroll across the path to the white sandy beaches. There are also an abundance of restaurants, cafes, boutique shops surrounding the rich colonial backdrop. Overnight Paraty
Day 10 and 11 – Sightseeing Paraty at your Leisure
These two days are your free time to explore Paraty. Renowned for hosting many locals from both Sao Paulo and Rio de Janeiro for weekend getaways you will be sure to encounter a mix of local and foreign visitors to the town all with a common purpose, to merely enjoy the peace and serenity of this colonial town. Paraty will cater for everyone's needs from relaxing beaches to adventure seeking activities including scuba diving, snorkelling, kayaking, horse riding and bike riding. Additionally, another great side trip not far from Paraty is the Bocaina hills, where walking trails and waterfalls are the main interest for visitors and nature lovers.
In this package we have also included a Schooner cruise including lunch. On this tour, you will embark on a schooner that sails to several of the most beautiful beaches and islands in the bay of Paraty, all surrounded by dense rainforest. After sailing for roughly 40 minutes, the schooner makes 3 stops of about 1 hour each for sunbathing, swimming, and snorkelling. Although the exact locations tend to vary with each tour, depending on weather conditions and to avoid the crowds, the islands generally included in the tour are: Comprida, Algodão, Cotia, Praia Vermelha and also the beaches of Lulas, Saco da Velha amongst many others. Lunch will be served on board the boat. The tour includes snorkelling equipment (masks and snorkels) as well as fruit for the passengers. The tour lasts approximately 5 hours. Overnight Paraty
Day 12 – From Paraty to Rio De Janeiro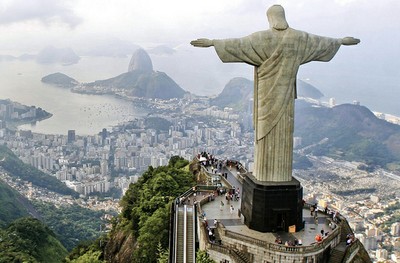 Today your Paraty Getaway concludes. Now you are revitalized to continue building onto your journey! In this package we have included the transfer from Paraty to Rio de Janeiro. Due to the geographical expanse Brazil is from being such a large country, we suggest taking this opportunity to pass over taking a flight and travel by road onto Rio De Janeiro to soak up the Brazilian landscape that so many travellers miss.
From the moment you enter Rio you will be eager to explore this unique and exhilarating city. On your arrival you will be transferred from Rio airport to your hotel and you will be taken through this city to the stunning and bustling Copacabana beach where you hotel awaits your arrival.
Rio is the second largest city in Brazil and with that title it comes with the whole package, here you will be able to visit one of the most photographed monuments in the world, Christ the Redeemer standing proud and high on the Corcovado Mountain. You can take a stroll along one of the most famous beaches in the world; Copacabana beach, or take a cable car ride to the Sugar Loaf Mountain.
Our packages include staying in the Copacabana beach area for its scenery, nearby restaurants, location and one of the nicest area Rio has to offer. Overnight Rio de Janeiro.
Day 13 –Sightseeing Rio de Janeiro
Today Rio de Janeiro will display to you why it is the most visited city in the southern hemisphere. The tour package starts with your guide meeting you early in the morning to beat the morning traffic for the train ride up to Corcovado Mountain to see one of the most photographed and iconic statues in the world, Christ the Redeemer. Standing proud and high on the Corcovado Mountain, this statue is a symbol of Christianity and is considered the second largest art statue in the world with its height being 38 meters and is located at the peak of the 700-metre Corcovado mountain in the Tijuca Forest National Park. From the peak's platform the panoramic view on the sunny days includes downtown Rio, Sugarloaf Mountain and Copacabana beach.
After visiting Corcovado mountain your guide will give you be able to suggest a few places for you to have lunch and give you enough time to enjoy some Brazilian cuisine. Next your guide will take you through the city to soak up the vibrant Brazilian culture. Your next destination will be Sugar Loaf Mountain, this is a peak situated at the mouth of Guanabara Bay on a peninsula that sticks out into the Atlantic Ocean. Rising 396 meters above the harbour, the only way to get to this mountain is by a glass-panelled Cable Car capable of holding 65 passengers and runs along a 1400-metre route between the peaks of Pão de Açúcar and Cara de Cão every 20 minutes. On top of Sugar Loaf Mountain you will be able to enjoy a panoramic view of this extravagant city. Overnight Rio de Janeiro.
Day 14 – Full day Rio
Today you have the whole day to explore Rio De Janeiro on your own. There is plenty of activities and sightseeing to keep you occupied if you want to be on the go or what better way to spend your last day in Rio by relaxing on one of the most famous beaches in the world – Copacabana beach!
Day 15 – From Rio to Buzios
It's time to say goodbye to the vibrant city of Rio and journey onto your next adventure.
This morning you will be met by your driver in the lobby of your hotel for the 180kms drive by coach from Rio to the beautiful peninsula of Buzios. This is a tourist coach and will take approximately 3hours to reach Buzios.
When you arrive into Buzios your driver will take you to your hotel, your hotel will be depending on what level of accommodation you have chosen and will be near one of the many beaches of Buzios.
Days 16 and 17 – Sightseeing Buzios
During these two relaxing and splendid days, you can explore Buzios. Take a stroll through the narrow cobbled streets that are lined with unique shops offering authentic Brazilian handicrafts, art galleries, boutique clothing stores, pubs and a variety of cafes/restaurants. Or if you are just in the mood to soak up the sun your hotel will be able to arrange transfers to many of the beaches of Buzios. At some beaches you may find cabanas serving up refreshing cocktails and tasty local Brazilian food!
Day 18 – Journey Buzios to Rio
Today your driver will take you back to the vibrant city of Rio where your Brazil with a Difference travel itinerary concludes.
Inclusions
Inclusions
All overnight accommodation in 5* hotels
All transfer to/ from hotels and airportsEntrance to Iguazu Falls both on Brasil and Argentinian side
Full day Serra do Mar incl train journey
Full day Ilha do Mel
Half day city tour Sao Paulo
Half day Schoon Cruise
Full day Corcovado
Not Included
International and internal flights
Visa fees
Meals and drinks
Tips to the drivers, guides & porters
Items of personal nature
Airfares:
Travel Just 4 U has competitive South America Flights to get you to the starting point of your chosen Holiday. Contact one of our Travel Consultants for a full quotation including airfares, stopovers and any additional travel you wish to organize.