Machu Picchu is one of the world's most famous sights and an icon of South America. The "Lost City of the Incas" is just a train ride away from Cusco, but (barring the streams of eager tourists) it feels a world away from any kind of civilization.
Machu Picchu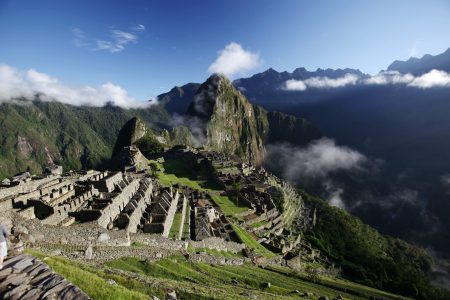 The site of Machu Picchu avoided the Spanish invasion which destroyed so much of South America's ancient cultures by remaining hidden and, as such, remains one of our last points of contact with that ancient world. The haunting, mystical aura of the area has certainly remained, and as such the trek to the city, the beauty of the city and the impression the city itself makes all come together to make travel this ancient site utterly unforgettable.
Such a stunning part of the world was never going to stay hidden, of course, and thousands of visitors make the journey each year. So what can you do to avoid the crowds? What secrets are there to Machu Picchu that you can discover? We've collected our favourite insider tips on doing Machu Picchu right here.
Don't be fooled into thinking you need to take the Huayna Picchu route. Why? Well, while everyone else queues up in the early hours of the morning in Agua Calientes to be one of the 400 that makes the hike, you can take your time, arrive at 9am and still get what many to be consider a better view of the ancient city.
Hardly anyone uses this route and so you can enjoy your walk almost in isolation. Thanks to the height of Machu Picchu Mountain (1,640 feet), where the route winds up, you'll enjoy views not just of the ruins, but also the Urubama River.
The Secret Temple
If you fancy yourself as a regular Indiana Jones, perhaps discovering a secret temple among the ancient ruins of Machu Picchu will be pretty high on your list of things to do.
If you do chose to trek the Huayna Picchu route, be sure to follow the trail to the Temple of the Moon – a haunting shrine that's built into an ancient cave. It's said that this area was once used to hold mummies and riches. Spooky.
The Museum
Some think that, for such an historical site, Machu Picchu lacks a comprehensive, informative museum. Those people merely haven't explored well enough. The Museo de Sitio Manuel Chávez Ballón is nestled away at the end of a long dirt-road about 30 minutes from Aguas Calientes, near Machu Picchu's base.
For the $8 entrance you'll get to learn all about why Machu Picchu exists, why it is where it is and much more. An essential visit for history-buffs.
Plan your trip for certain times of the year
Don't go thinking that you can spend your Christmas holidays hiking Machu Picchu. This is rainy season in the area and you will have a bad time. Instead, think about heading to the trail in September, October, April and May in order to avoid the crowds and get the best of the weather.
Prepare Physically
Hiking to Machu Picchu isn't climbing Everest, but similarly it's not a simple evening stroll around the neighborhood.
According to Mark Adams, author of Turn Right at Machu Picchu, you'll be climbing more than 4,000 feet on some days at an altitude of over 10,000 feet. It's important to be prepared.
Book Ahead
Since Machu Picchu is one of the world's most iconic, spectacular sites, it gets very busy. Booking ahead is essential to secure your place, and also to ensure that the site isn't down for maintenance. Be sure to get in touch with our travel specialists at Travel Just 4U in order to book in advance and enjoy the best trip possible.
For more information on Machu Picchu trips and travel information please check out our Machu Picchu and Cusco suggested travel itineraries.