5 things to do in Patagonia
As travellers we suffer from a fear of missing out on something important. At best we have a limited amount of time allocated to travel and we want to see as much as possible because the reality is, we just don't know when we will get back to that exotic part of the world we have just ventured into. There is weight behind the advice that if you want to see something properly, take your time. However, most of us can't afford the luxury of extended leave. If South America is your destination, no doubt more than one country will be included in your adventure. One of the many frequented destinations in South America is Patagonia, and for good reason. Patagonia straddles the south of Chile and Argentina. A vast region renowned for it's dramatic and spectacular scenery, wildlife and hiking. Unsure which side to travel on because you don't have much time? Where to start? Well, here is the best of Patagonia on the Chilean side in 7 days.
1. View the Magellanic Penguins
From Punta Arenas you can take a ferry for Magdalena Island to view a very large colony of Magellanic Penguins between September to March. The island is a stopover for the penguins on their migration north to Brazil. There are over 60,000 couples on the island so chances are high of your seeing more than just a few. Around mid to late October the females can be seen nesting their eggs in their burrows. This is a real opportunity to get up close to these wonderful birds in their natural surroundings.
2. Las Torres – Torres del Paine National Park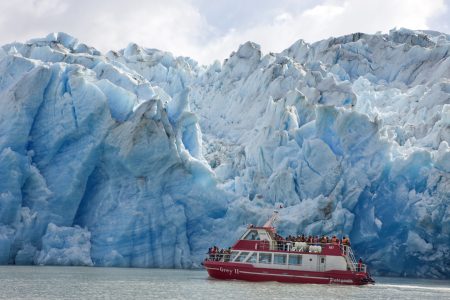 Torres del Paine National Park would have to be one of the most photographed parks in the world, no wonder it has recently been selected as a contender for the 8th wonder of the world (by VirtualTourist). The park is known for its vast and dramatic scenery, mountains, hiking, lakes, glaciers, waterfalls and granite towers. Once in Patagonia, you really shouldn't miss seeing the natural granite towers, Las Torres! If you have time, take a wildlife safari in the hopes of spotting an elusive and rarely seen Puma. If you're not so lucky to see a puma, you'll see plenty of breathtaking scenery and wildlife living in their natural habitat.
3. Lago Grey & Grey Glacier – Torres del Paine
Glaciers are always one of those magnificent and wondrous visions to behold. If you go to Patagonia you have to at least see one of the many huge glaciers still standing tall. Grey Glacier requires a 1 hour boat ride over Lago Grey to get to the foot of the glacier. As you near the glacier the boat will need to navigate around masses of the glacier that have broken away from the exposure to the surrounding weather conditions. From the boat you will be dwarfed by the sheer mass of wall of the glacier as it extends over 20 metres high. The stunning beauty and magnitude of the glacier will be a photographers dream. Latest sources say the glacier has been retreating constantly over the last decades so recommend including this on your list.
4. Visit & Stay in a Traditional Gaucho Ranch
A Gaucho is a South American cowboy. In the 19th century gauchos made up the majority of the rural population in Patagonia, their main activities were herding cattle and hunting. Some of the old ranches have been converted into luxurious accommodation complete with the gaucho experience and a few locations include exceptional gastronomic dining. Some ranches include horseback riding like a cowboy, gaucho dancing, horse shows and of course the authentic Chilean asado BBQ. It is well worth remembering that while Patagonia is steeped in panoramic beauty, sometimes it's the experiences that you will remember vividly.
5. The Rest of the Patagonian Experience
There is more in Patagonia and if you have time stay a while in Torres del Paine National Park, there is plenty to see and do including a variety of hiking trails, wildlife tours, boat rides and glacier walks. Best of all your camera will love you for it!
Getting to Patagonia, Chile
If you have time on the way down to Patagonia, we would also recommend visiting a Chilean winery and the wild sea lions that inhabit the fish market in Valdivia. There is accommodation suitable for any time frame and budget. From eco lodges set amongst the mountains to luxurious revamped gaucho ranches. There are daily connections to and from Patagonia from the north of Chile and from Argentina. Contact the expert Travel Consultants at Travel Just 4U for more information in planning your trip.