Duration:
3 days - 2 nights
p.p. twin share. Excludes Airfares
Iguazu falls is one of the most breathtaking places in the world you will ever come across.  On the border of Brazil and Argentina, Iguazu means 'Great River' in the indigenous Guarani language and there could hardly be a more fitting name.  After rising in the Brazilian highlands near Curitiba, the Iguazu river runs westward on a 1100km journey, receiving some 30 tributaries on its course to the plateau where, just before merging with the great Paraná river, it plunges thunderously over an 80m high cliff in virgin forest.  Iguazu Falls are in the Iguazu National Park which is a region of large rivers and humid, tropical landscapes of red soil and bright green jungle, full of giant, ancient trees, and a large amount of endemic flora and fauna.  Within the National Park you find the world famous Iguazu Falls, the most spectacular and thunderous in South America.  Iguazu Falls have a total of 275 falls cascade over a precipice that is 3km wide, sending up an endless wall of spray laced with rainbows. Seeing the sheer power and hearing the wild roar of Iguazu Falls is a must on any itinerary to South America.
The below tour is fully flexible with departure dates and can be modified to your own personal travel preferences, please contact us for obligation free inquiry.
Overview
Overview
| | |
| --- | --- |
| Day 1 | Arrive in Iguazu (Argentina) & Sightseeing Iguazu Falls |
| Day 2 | Sightseeing Iguazu Falls on Brazilian side |
| Day 3 | Depart Iguazu |
Itinerary
Itinerary
Day 1: Arrive Iguazu (Argentina) & Sightseeing Iguazu Falls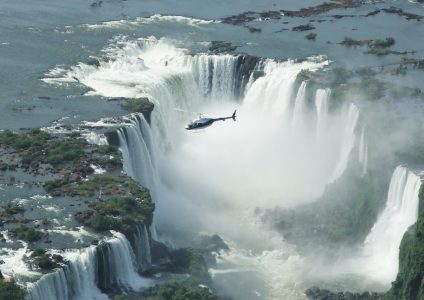 Upon your arrival at Iguazu airport you will be transferred to your hotel.  After checking into your hotel your guide will be waiting for you to take you to Iguazu Falls on the Argentinean border.
First stop will be a visit to the visitor center inside Iguazu National Park.  At the visitor center, you will catch a special purpose train that will take you to the upper path, lower path and the ferocious devils throat platform.  The upper path is 500 meters long and is will take you about 45 minutes seeing the waterfalls (Two Sisters, Bosseti, Adam and Eve, Bernabe Mendez, Mbiguá and San Martín falls) from the upper part.
For the lower path of the falls a guide will walk you around 1,300 meters of footpath for approximately 1.5 hours. The view is unique and distinctive and well worth the walk as you will be able to view the falls from right in the middle!  There is a chance you might get wet!  The last viewing point is the Devils Throat, which surrounds the upper part of the Iguazu River, and you can walk to the balcony of Devil's Throat for the most spectacular view of all.
There are plenty of photo opportunities on this tour and we would suggest making sure your video is charged to be able to capture the full impact of this catapulting and thunderous waterfall.
Day 2: Sightseeing Iguazu Falls (Brazilian side)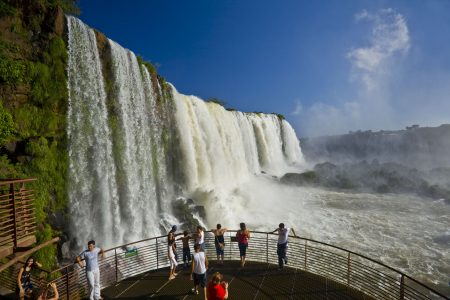 Yesterday you saw Iguazu falls from the Argentinean side of the boarder and today you will able to observe the natural wondrous falls from the Brazilian side.  Included in this package is a half-day tour which will take you across the Brazilian border (visa required before departing Australia) for a panoramic view of the falls almost 3 km long and with 270 cascades.  It's a 1000 m (approximately 1 hour) of easy walk starting from Das Cataratas Hotel and finishing in the canyon of the Devil's Throat.  The round trip takes approximately three hours.
After the half day tour you will be taken back to your hotel on the Argentinean side, for an afternoon at your leisure.
Optional: There is an opportunity to book a helicopter ride over the falls and visit the Bird Park on the Brazilian side of the Iguazu Falls.
From both the Argentinian and Brazilian side of the Falls there are opportunities to go on exiting Safari Boat trips and get real close to these majestic Falls (be prepared to get wet).
Day 3: Depart Iguazu
This morning you will have some time to relax before your journey 'Iguazu Falls' concludes.  You will be transferred to the airport for your next adventure.
Inclusions
Inclusions
Transfer on arrival & departure
2 nights Iguazu (Argentina, 4 star, twin share)
Half day sightseeing tour at the Argentinian side of the Falls including entrance ticket
Transfer between Argentina and Brazil
Half day sightseeing tour at the Brazilian side of the Falls including entrance ticket
Not included
International and internal flights
Visa fees
Meals and drinks
Tips to the drivers, guides & porters
Items of personal nature
Airfares
Travel Just 4U has competitive South America Flights to get you to the starting point of your chosen Holiday. Contact one of our Travel Consultants for a full quotation including airfares, stopovers and any additional travel you wish to organize.
Other Argentina, Brazil Experiences