p.p. twin share. Excludes Airfares
This "Northern Brazilian Coast" suggested travel itinerary offers you something a little different from the usual Brazil tours. This tour will take you through some of the most fascinating towns situated on the Brazilian coast. We start with the sights, tastes and senses in the city of Salvador. Then to Recife and the beautiful Olinda enriched with the history of slavery. We then transfer to the entertaining city of Fortaleza. From here we travel to Sao Luis where markets are aplenty. Not only are these cities full of life they have a rich history of the colonial times and the controversial slave trade, the African culture has integrated well and is strongly represented in daily life, of which music plays a big part. This Brazilian Coast travel itinerary is simply vibrant!
Overview
Overview
| | |
| --- | --- |
| Day 1 – 2 | Arrive in Salvador & sightseeing tour |
| Day 3 | Salvador at your leisure |
| Day 4-5 | Sightseeing Recife & Olinda |
| Day 6 | Sightseeing Recife at your leisure |
| Day 7-8 | Travel to Fortaleza & sightseeing tour |
| Day 9 | Sightseeing Morro Branco Beach and Praia das Fontes Beach |
| Day 10-11 | Arrive in Sao Luis & sightseeing tour |
| Day 12 | Visit the charming village of Alcantara |
| Day 13 | Sao Luis at your leisure during the day & Sao Luis Night |
| Day 14 | Depart Sao Luis for your onward journey / next adventure! |
Itinerary
Itinerary
Day 1 –Salvador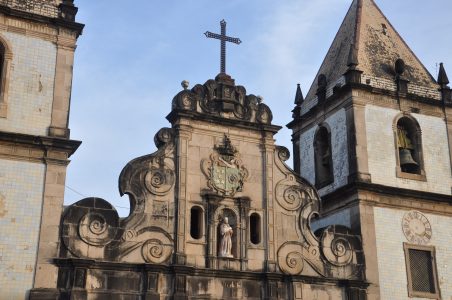 Your journey to Salvador starts off with an arrival transfer from the airport to your hotel in the heart of the city. Salvador was once a capital of Brazil and still to this day has a classic range of colonial buildings and will take your breath away. It's only a short ride from the airport to the hotel but the scenery along the way is a tour in itself.
After checking into your hotel we recommend having a stroll down some of the streets to see some of the architecture that is so unique in this area. It is also the focus of Salvador's famous and exuberant nightlife with countless restaurants, bars and nightclubs.
This evening your package includes a Salvador by night tour, This excursion provides an opportunity to enjoy a wonderful dinner and spectacular show, set in a beautiful 18th century architectural complex comprising the main house (Casa Grande), a chapel and outlying slave quarters – making it one of the most traditional entertainment spots in Salvador. Overnight Salvador
Day 2 & 3 – Sightseeing Salvador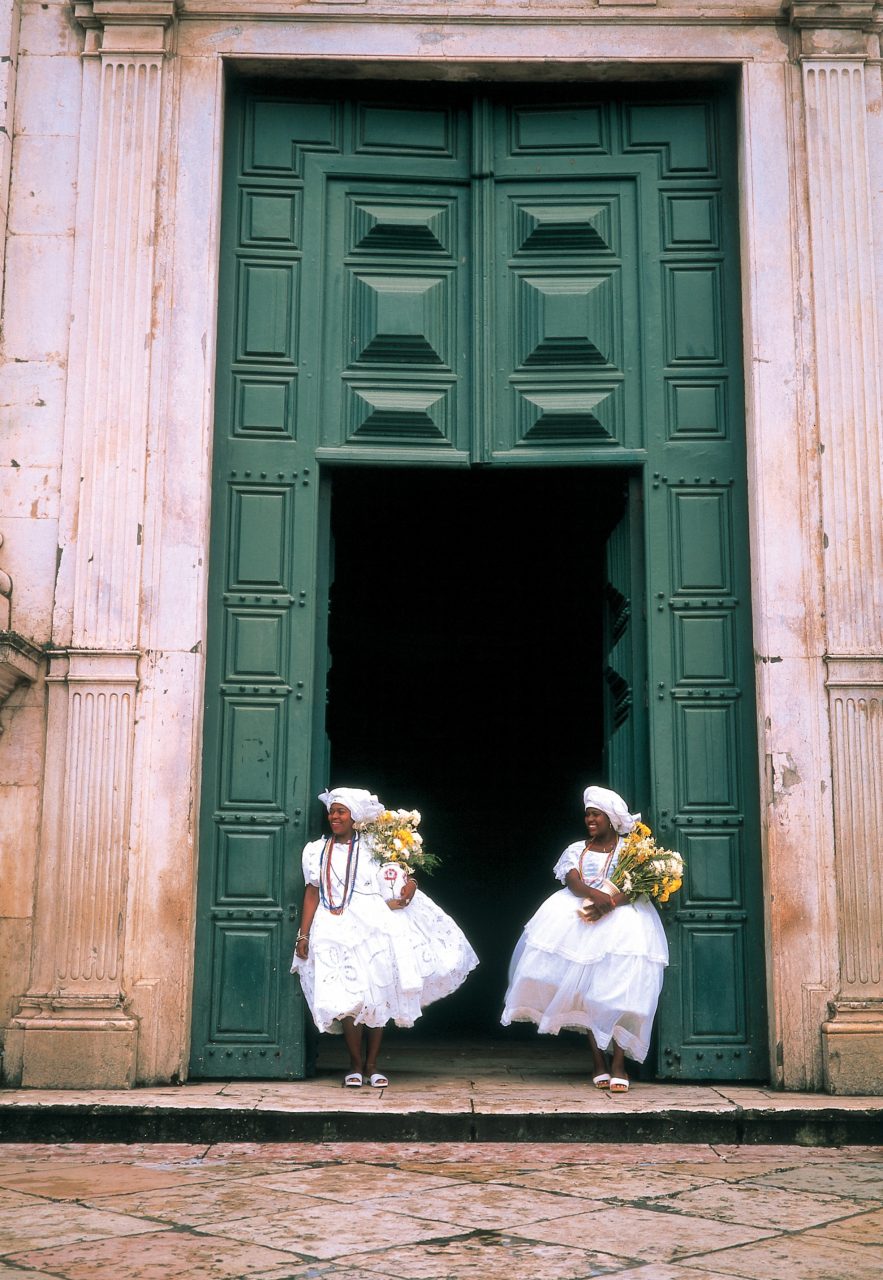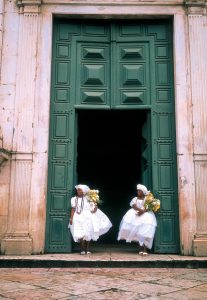 You now have two full days to explore, eat and enjoy Salvador and you will need it with all the entertainment this historical city has to offer. To get into the Salvador spirit this package includes a half-day (4hour) Salvador tour. This excursion provides a real visual feast as you take in the unforgettable sights of Salvador's Cidade Baixa (Lower City). You'll visit the famous Igreja do Bonfim, the focus of many of Bahia's (state) different religious traditions, such as the famous Lavagem do Bonfim festival, during which the steps of the church are washed. The excursion also includes historic neighbourhoods such as Ribeira, where you stop at the charming Sorveteria da Ribeira, an ice cream parlour that has been serving a unique range of delicious flavours since 1931. The last part of the tour is devoted to the imposing Forte de São Marcelo. This almost circular fortress was built in 1650 to defend the city against a possible Dutch invasion, and played a fundamental role in preventing enemy ships from entering the port. The magnificent view from the fort of the Baía de Todos os Santos (Bay of All Saints) makes a spectacular conclusion to this very special tour.
On your third day in Salvador you are able to explore the city at your own pace. Overnight Salvador
Day 4 – From Salvador to Recife
Today you will depart Salvador for you next chosen destination! The sights, tastes and senses of Salvador will forever remain with you as an essence of Brazil! After breakfast you will have a transfer back to the airport to catch your flight from Salvador to Recife (flight from Salvador to Recife not included in package price)
When you arrive into Recife you will have a transfer from the airport to your hotel. Once entering the region of Recife you will first notice the magnificent white sandy beaches mixed in with the green waters of the ocean. But this area has so much more to offer than pristine beaches. Recife's name was derived from the Portuguese word for reef, referring aptly to the city's locality behind a long coastal reef. Also referred to as the Venice of Brazil for its many canals, bridges and tiny one-way streets, this is a diverse and contrasting city also plays host to high rises, colonial churches, markets and seductive beaches. This is a fantastic city to amble and discover your own hidden secrets around every corner!
The hotels we have selected are on the famous beach of Recife – Boa Viagem beach. This waterfront district with a stunning landscaper is Recife's real hub with much of Recife's nightlife, restaurants and markets located in the district, providing a good home base for any visitor to the city. Overnight Recife
Day 5 – Sightseeing Recife and Olinda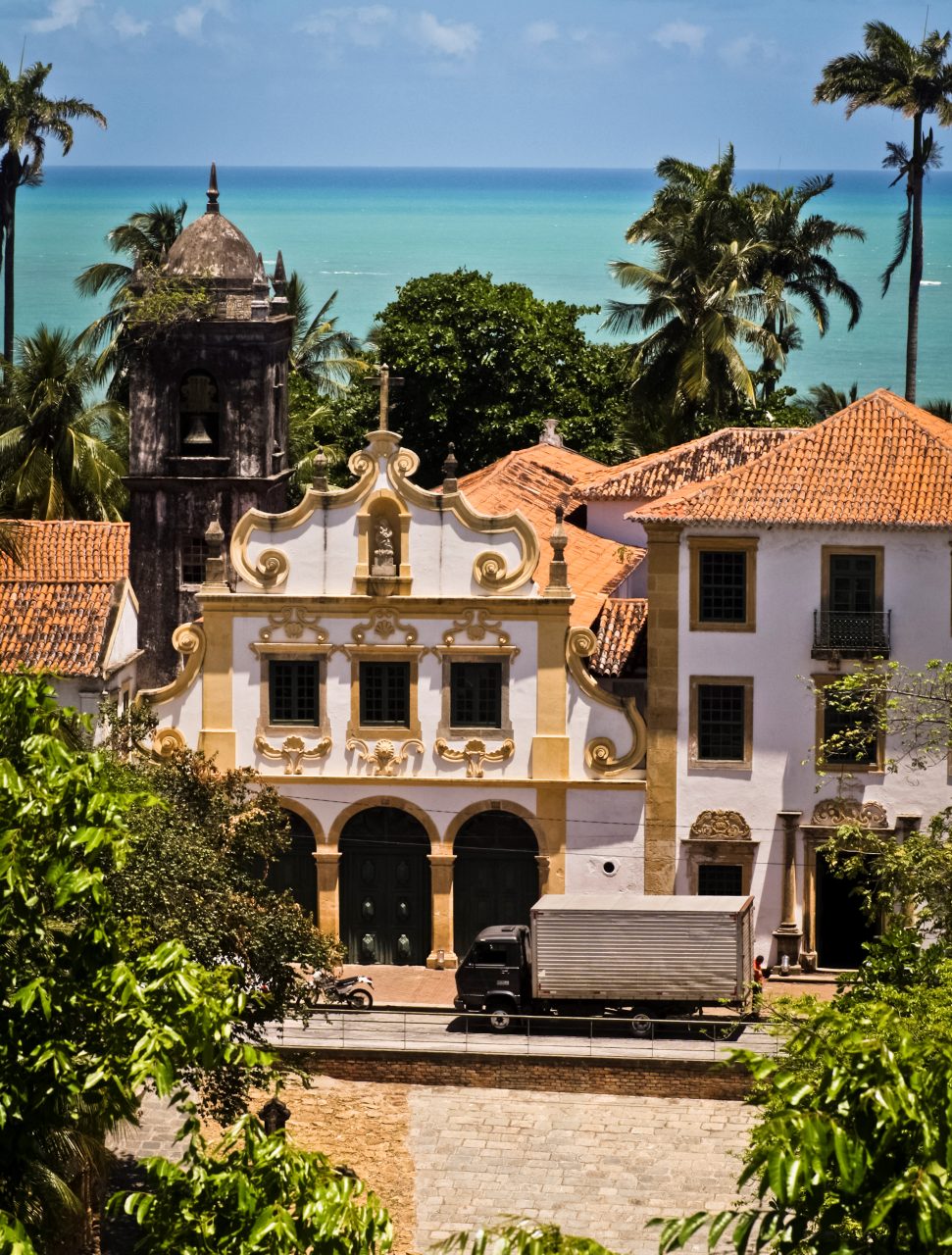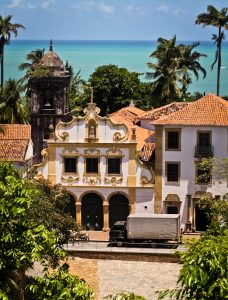 Your package today includes a half day sightseeing tour of Recife and Olinda. This city tour starts with a coastal drive along the ultra-modern and wealthy seafront of Boa Viagem Beach and then proceeds to Rua do Bom Jesus in Old Recife. This district was founded by the Dutch, evident by the tall, narrow four-story houses that resemble those of Amsterdam. Visits include the Praça da República, surrounded by fine buildings: the Law Courts, the Governor's Place and the Santa Isabel Theatre. There is also the Capela Dourada (Golden Chapel), a gilt-clad church that contains a small sacred art museum with some fine pieces of gold and silverwork. The tour continues with a visit to the exotic world of the artist Francisco Brennand and Casa da Cultura, once a prison but now with each cell converted into a craft shop.
The tour then proceeds to Olinda, a breathtaking colonial town that overlooks Recife and the Atlantic Ocean. Olinda literally means "Oh Beautiful", it just says it all! 10km away from Recife, Olinda boasts narrow sloping cobblestone streets suitable for ambling and taking in the local life, colonial churches and monasteries and a thriving cultural centre. The splendid colonial architecture of Olinda has held the title of World Heritage Monument by UNESCO since 1982.
As Olinda's historical wealth won it a place on UNESCO's World Heritage List in 1982, the tour includes several unique attractions, such as the Mosteiro de São Bento, built in 1582. The monastery is lavishly decorated with gold and excellent woodcarvings and for 24 years was the home of Brazil's first law school. You will also see Igreja da Sé (the first parish church in the Northeast), Igreja Nossa Senhora da Graça (the old Royal Jesuit College), Convento do São Francisco (consisting of the convent, a chapel and a church) and the former slave market. You will find pleasure just walking down the cobbled streets of this enchanting colonial town and you will realize Olinda was well worth the visit! Overnight Recife
Day 6: Sightseeing Recife District at your Leisure
Today you will have free time to explore Recife and the surrounding areas at your leisure. From your half day tour in yesterday you will have connected with the history Recife and Olinda has to offer. We suggest spending today exploring the city, connecting with the friendly happy locals, visiting the native sub-tropical vegetation, varied flora and fauna, and secluded beaches renowned for its excellent scuba diving and snorkelling. Thousands of sea turtles live in this region – although it is now prohibited to swim with them – the archipelago is home to the Atlantic's sole group of 'stenella longirostis' dolphins, which can be seen from unspoilt beaches such as Praia da Quixaba, Praia do Leão, Praia do Bode. Overnight Recife
Day 7: From Recife to Fortaleza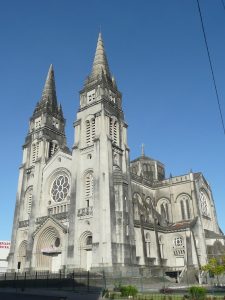 After breakfast you will be collected from your hotel and transferred to the Recife airport to board your flight from Recife to Fortaleza (flight Recife to Fortaleza is not included in package price).
Upon your arrival into Fortaleza you will have a transfer to your central city hotel. The centre of this relatively young city vibrates with the lively commerce in and around the Mercado Central. Fortaleza offers some of the best shopping in Brazil, especially where clothes, hammocks and handicrafts are concerned. As for nightlife, Fortaleza is one of the liveliest cities in Brazil, and includes numerous venues for traditional forró dancing. The city seafront that comprises the beaches of Meireles and Iracema is also a favourite among locals and tourists alike, day and night. A little further from the city centre is Praia do Futuro, where the best bathing can be combined with the opportunity to try some excellent seafood. Overnight Fortaleza
Day 8 – Sightseeing Fortaleza (Half Day)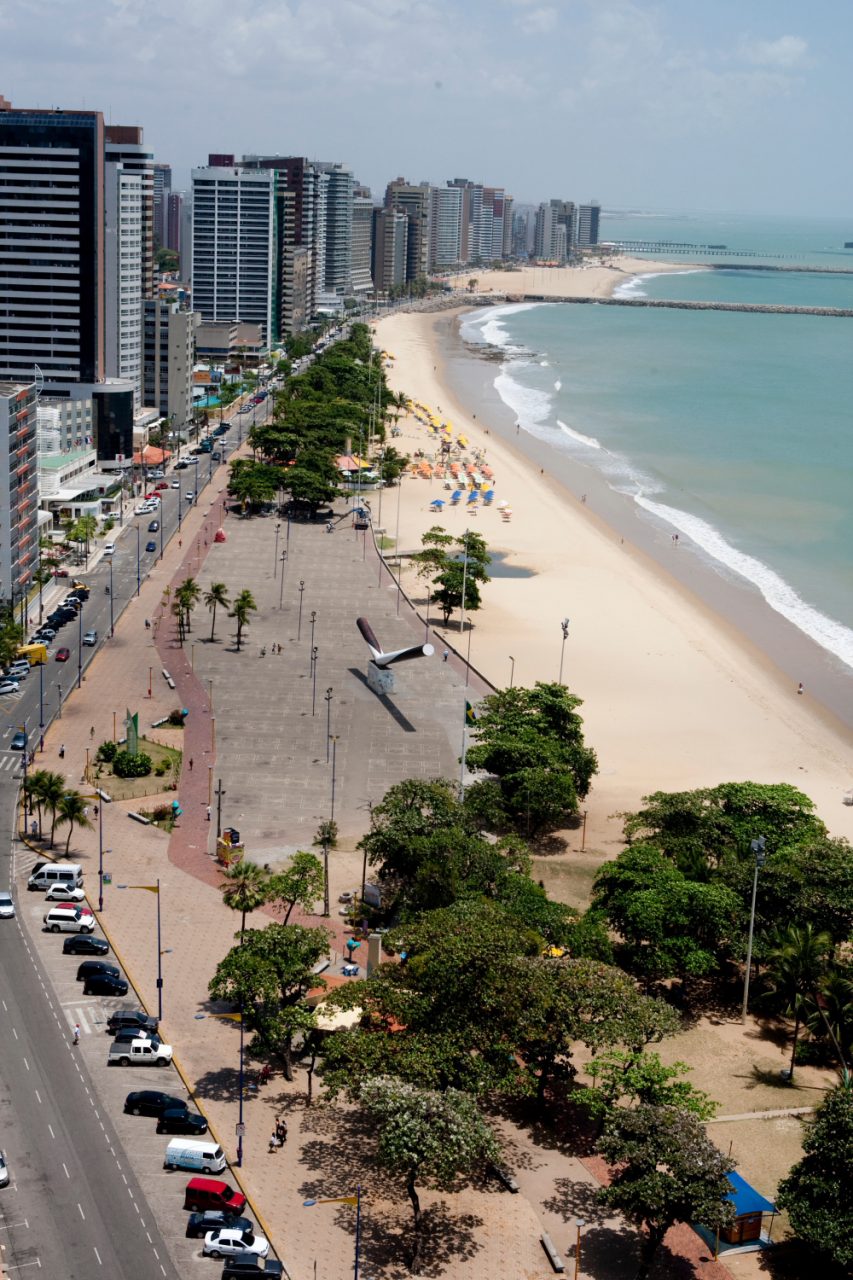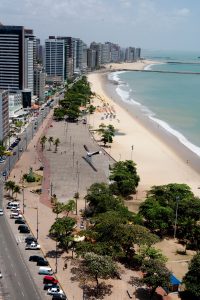 The best way to explore a city is by doing a half day tour to establish your surroundings and get a good insight of the history of Fortaleza. While its fine beaches make it a favorite holiday destination for both Brazilian and foreign visitors, within the city lies a throbbing historical and cultural heart complete with magnificent colonial buildings, squares, monuments and craft centers.
One highlight is the combined Tourist Centre and Museum of Folk Art and Culture, an historic building overlooking the sea, where a wide range of modern and traditional crafts from all over Ceará state is sold. From here, you continue to the nearby José de Alencar Theatre, with its elegant Edwardian ironwork, Martyrs' Square and the magnificent Metropolitan Cathedral. In addition to Fortaleza's historical and cultural attractions, the excursion takes in the superior beaches of Meireles, Iracema and Futuro, the latter being saturated with excellent seafood restaurants. Overnight Fortaleza
Day 9 – Sightseeing Morro Branco and Praia das Fontes Beach
Today is a treat with the worldwide postcard beaches of Morrow Branco and Fontes Beach. Morro Branco's fame has grown worldwide due to its unique postcard beaches used in TV and movie productions.
In the vicinity of Morro Branco lies the famous Praia das Fontes (water-springs beach). This beach is an enchanting and magical location with pristine waters catering for various water sports and providing crystal-clear fresh water springs that sprout from the ground and spill over onto the beach, providing an invigorating fresh-water shower after a salt water dip in the sea. Bliss! Overnight Fortaleza
Day 10 – From Fortaleza to Sao Luis
Well it's hard to say goodbye to Fortaleza and its beautiful scenery, however Sao Luis is just as picturesque. After breakfast you will be transferred to the airport for your flight from Fortaleza to Sao Luis (Flight not included in package price and is quoted separately)
Upon your arrival into Sao Luis you will be greeted by our local representative and transferred to your hotel located near the beautiful beaches of Sao Luis. Traveling into the city you will be able to make out firsthand the historical buildings dating back from the 16th century and then in the next moment see the modern buildings blending into the architecture. The hotels we have selected are situated along side many wonderful restaurants for the area and historical landmarks. Markets are aplenty during the day if you are in search for local Brazilian souvenirs.
The rest of the day is at your leisure. Overnight Sao Luis.
Day 11 – Sightseeing Sao Luis (Half Day Tour)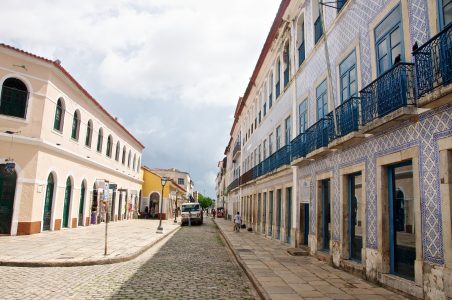 This half day city tour is like the trip to the times of colonial Brazil as you wander through the streets of the historical centre of São Luis. In addition to the beautiful old centre, which contains the most homogeneous collection of secular Portuguese architecture in Latin America, you will visit the two most scenic beaches on the island and learn about local people, legends, and folklore. Cobblestone alleyways, colonial buildings, stairways of stone, and dozens of important historical monuments that preserve the memory of a place that is considered "The City of Tiles and Mansions". Also in the tour is "Projeto Reviver", the project that gave life back to a part of the historical centre. The ancient Cânhamo Factory was transformed under this project into a shopping centre.
Day 12 – Sightseeing Alcantara (approx. 6 hours)
A full day trip is warranted for the charming laid back village of Alcantara. Alcantara is a unique existence of a small town living inside the ruins of a once-thriving colonial city. In the 18th and 19th centuries, Alcantara was the location of booming sugar and cotton plantations for the upper class families. With the end of slavery in 1888 the plantation economy crashed. The families and merchants abandoned their plantations leaving the city in the hands of the newly freed slaves and their descendants.
A visit to Alcantara allows you to wander down the main cobblestone street, view the attractive collection of Colonial houses with decorated doors and bright Portuguese tiles.
As this is a 6 hour tour you will have the remainder of the day at leisure, we recommend visiting some local markets or have a few hours relaxing on the beach before the sun goes down and you head out for a bite to eat at one of the fabulous restaurants.
Day 13 – Sightseeing Sao Luis at your Leisure (Day) & Night Tour
Today you will have the whole day free wander through the historical streets or relax on the beaches.
In the evening Sao Luis transformed and it is an opportunity not to be missed. We have included a Sao Luis by Night Tour presenting you with a mix of traditional Culture expression and reggae music. You can taste the typical Maranhense food and visit the panoramic view of the Jansen Lagoon. There is an abundance of bars in the historical centre and at the ocean beach. It's a great way to end your stay exploring Sao Luis on a high!
Day 14 – Depart Sao Luis
Today you will say goodbye to Sao Luis and hopefully have come away with some amazing memories of a life since past and of the unique flavours this region has to offer. You will be transferred from your hotel to the airport.
Inclusions
Inclusions
All hotel accommodation in 4/5* hotels
All transfers to/ from hotels and airports
Half day Bahia by night, Migueal Santana Theater
Half day city tour Recife/ Olinda
Half day Fortaleza
Full day Morro Branco + Praia das Fontes
Full day Alcantara incl boat trip
Sao Luis by night
Not Included
International and internal flights
Visa fees
Meals and drinks
Tips to the drivers, guides & porters
Items of personal nature
Airfares
Travel Just 4 U has competitive South America Flights to get you to the starting point of your chosen Holiday. Contact one of our Travel Consultants for a full quotation including airfares, stopovers and any additional travel you wish to organize.